Mukti with Varosha Launched De-Watering Operations to Clean the Contaminated Pond Water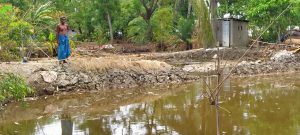 Water is not safe to drink, cook or clean after an emergency such as a flood. During and after flooding, water can become contaminated with microorganisms—such as bacteria, sewage, heating oil, agricultural or industrial waste, chemicals, and other substances that can cause serious illness.
After the destruction of Yaas hundred of ponds of Mathurapur I and II, Patharpratima, Basanti, Kankandighi and canning I and II were contaminated by the floodwater. The ponds were needed to be cleaned on an emergency basis.
Mukti in association with "Varosha" started dewatering operations by displacing the pond water with pumps. 150 ponds were cleaned and the water was made reusable for the villagers for their daily domestic needs.
We express our deepest gratitude to "Varosha" for supporting 1145 families to alleviate safe and useable water shortages.
| | | |
| --- | --- | --- |
| Area Name | Number of Families | Number of Ponds |
| Kankandighi | 133 | 18 |
| Purba Sridharpur | 161 | 28 |
| Basanti | 285 | 23 |
| Canning I | 120 | 17 |
| Canning II | 98 | 11 |
| Patharpratima | 153 | 16 |
| Mathurapur I | 139 | 28 |
| Mathurapur II | 56 | 9 |
| 8 Areas | 1145 | 150 |