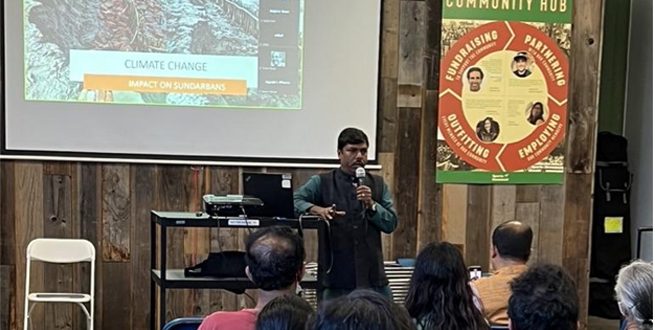 Mukti Visit to the USA, 2022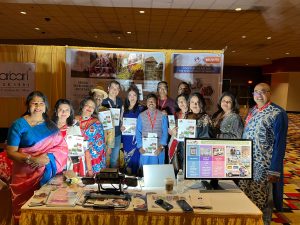 Mr. Sankar Halder – the Founder- President of Mukti has been invited by the NABC (North American Bengali Conference) organizing committee to attend the conference in Las Vegas from 1st -3rd July 2022. Mukti has been a philanthropic partner of NABC for many years. Many Bengali organizations across the USA – like Kolkata Gives, Bay Basi, Prabasi, Asha for Education, AID and Saikat attended the conference and several of them, approx 150- 200 people visited the Mukti stall to learn about Mukti and its activities. Some of them have already been supporting Mukti and some are new. On 2nd July core committee members of CAB (Cultural Association of Bengal) invites Mr. Halder on stage to represent Mukti in front of 1,000 people attending the event. In his speech, Mr. Halder talked about the mission, vision, value and goal of the organization and the various projects implemented by Mukti in the field of HEALER-AID( H- Health, E-Education, A-  Agriculture, L- Livelihood, E – Environment, R- Rights, A – Awareness and Empowerment, I – Integrated Development and D – Disaster Management). He asked for their support in the sustainable and long terms projects of Mukti. CAB highly appreciated the impactful work of Mukti and requested other organizations to support Mukti by participating in its noble task. The attendees applauded Mr. Halder and express their curiosity to more know about Mukti.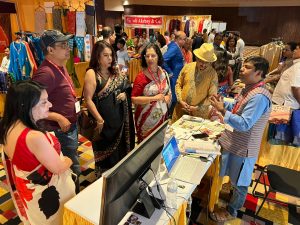 The objective of the visit is to make the world aware that Mukti does not work only for Sundarbans. The scope of Mukti is much greater. Mukti works for the backward people of West Bengal and India. There is an entrepreneur model of Mukti. Through this model/platform, Mukti wants to work together with similar organizations in any country of the world using Mukti's compliances. Overall it has been a golden opportunity for Mukti to interact with the supporters in person.
Mr. Halder, along with some of the MUKTI USA volunteers, from 6th – 10th July 2022 has visited several Bengali and Indian organizations across the west coast of the country. He participated individually in the meet-ups with Bay Basi, Prabasi, Asha for Education, AID and Saikat (San Diego).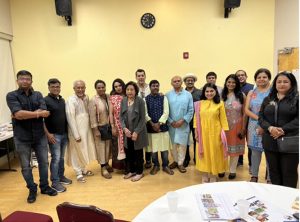 During the meet-ups, he presented the projects of every individual supporter of the Bengali association that Mukti is running in association with them. He has thanked them for their cordial assistance and support that is helping thousands of underprivileged lives of Sundarban to survive.
Bay Area – The meeting has been organized in San Francisco. During these five days events, Mr. Halder has met 20-30 people and participated in small meet-ups with individuals and organizations. Executive members of Prabasi and Bay Basi have been also presented in the meeting. In this meeting, it has been discussed which projects they can support Mukti. By compiling the complaints (human resources, accounts etc.) through a structured model how can Mukti help Bengali associations to expand Mukti's work in India and abroad. It will be a plug & play model. They have shown interest in the education and health sectors. Mr. Halder called the organizations to support Mukti in its long-term projects.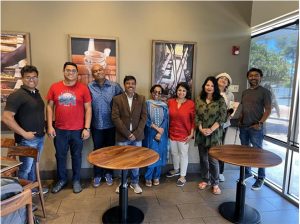 AID and Asha for Education – AID and Asha for Education have organized a discussion program on "Sundarban: Ground Zero for Climate (In) Justice" on 9th July 2022 in San Francisco. 40-50 volunteers of Asha for Education and AID participated in the program. Mr. Halder discussed in detail how climate changes are affecting the existence of Sundarban and how Mukti is acting in resilience by creating 3 layer plantations. The frequent occurrences of severe cyclones are not only making the lives of Sundarbans people miserable but also affecting the biodiversity of the region. The existence of Sundarban has come to a question. He explained how Mukti has created cyclone tolerant, flood resistance houses by using natural materials in a cost-effective manner. He expresses his gratitude to Asha for Education for helping deprived students through Mukti Support Schools and Mukti Information Technology and AID for their support in agriculture, disaster relief, mangrove plantation and for organizing VOICE seminars. The members of both organizations have expressed their immense interest in the cyclone tolerant housing project. They have assured their support to Mukti in its long-term projects.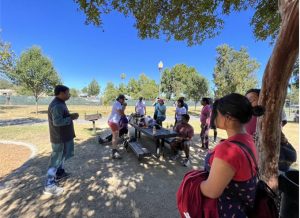 San Diego- On 12th July 2022 Mr. Halder had a meeting with Saikat in San Diego. 15 members of the organization have come to meet Mr. Halder. In the meeting, he has spoken about the TSS (Talented Student Program) project and how to support Mukti for the cause. He said that the Mukti TSS program is not only for supporting the underprivileged students financially but the sponsor can meet their sponsored students, guide them and can communicate through letters and phone calls. Sponsors act like their guardian and mentor to the students. Through the TSS program, Mukti is supporting the desired students from all over India.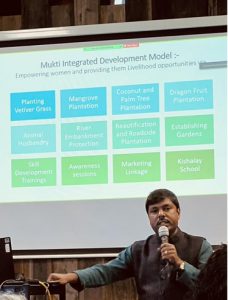 Mr. Halder had a project-specific discussion with some interested individuals – Mr. Chandan, Mrs. Suchandra Bramha, Mr.Biplab and Mr. Rajib. Mr. Chandan wants to work with Mukti in the health and education sectors. Mrs. Suchandra Bramha wants to start a rehabilitation project for helpless psychologically distressed women. She herself is a psychiatrist and wants to treat these types of women in India too. Mr. Rajib expresses his interest in providing audiobooks for blind students. Mr. Biplab expressed his interest in doing new projects with Mukti. Mukti has requested him to join the Mukti US Board as a board member.
The visit has been a fruitful one. Organizations of the Bengali Association have been overwhelmed by the collective knowledge of the activities of Mukti. They have assured their full support in Mukti's future journey.
Gallery link: https://muktiweb.org/gallery/album/mukti-participated-in-the-biswa-bangla-sommelon-2022-in-usa