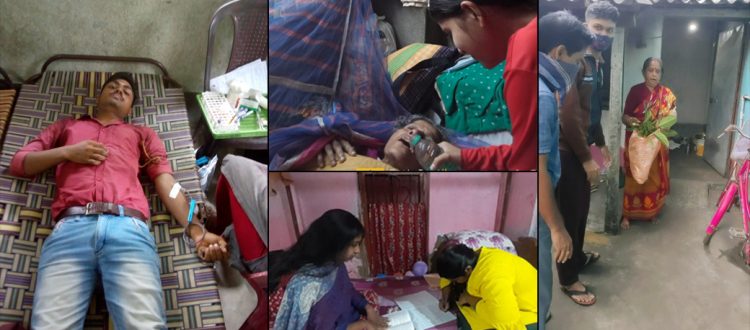 Mukti TSS Students Creating Social Impact
Student life is not all about academics, games, friends and fun. In fact, it is also about learning to interact with other people, being aware of the social issues/inequities and learning to help the helpless people in our society.
Mukti thinks that students are never too young or immature to start making a difference in the community and translating the social issues. Making a difference doesn't mean doing something that's going to change the world. However, students can do things that make a difference to themselves, their family, friends or community. Mukti inspires them to make an effort to make someone's life a little better and make people happy.
Mukti also requests parents they should find meaningful ways for their young ones to contribute to the community initiatives and social reforms.
Mukti TSS mentions here the social services of some enterprising students.
Mihir Baidya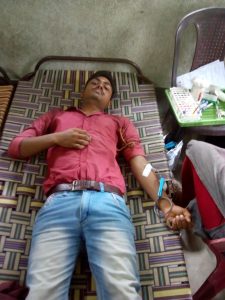 Mihir Baidya is a 5th Semester Geography (H) student studying from Sammilani Mahavidyalaya. He lives with his parents and elder sister at Jahar Colony village, P.O. – Jahar Colony, P.S.-S.B.Costal, South 24 Parganas. His father is a daily wage earner and his mother is a homemaker. He passed the HS exam with 87% marks. Observing his academic performance and contumacy towards education "Aidcate Now" selects him as their sponsored student.
We all know that blood is vital for survival. Blood donation not only rebuilds the lives of millions of people who face medical emergencies, but it is also a kind act of gifting back to the society we live in.
Mihir get involved in this noble cause and in November 2021 donated blood to the Blood bank for the welfare of vulnerable people.
Shreya Ghosh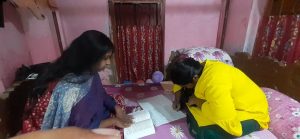 Shreya Ghosh is pursuing B. A. 3rd semester in History (H) from Samilani Mahavidyalaya. She lives with her mother at Shyama Charan Chakraborty Road Kodalia, Kolkata. She lost her father in her childhood. Her mother supported her and brought her up by running a small business. In extreme poverty, her mother encouraged her to pursue higher education without getting her marriage because her mother knows that education is all about empowerment and one of the most important factors for retarding and preventing global poverty. At the urging of her mother, Shreya enrolled her name in the Mukti TSS project and she has been selected by Mr. Nirmalendu Dutta as his sponsor student.
She wants to be a teacher in the future. She is contributing to increasing the rate of literacy by providing free tuition to a student & giving subject base knowledge to one of her classmates from October 2021.
In addition to her own studies, she is determined to help the economically backward people of society.
Subham Goswami
Mukti TSS Student Subham Goswami Helping the Local Club to distribute Flower Plants
Subham Goswami is a student of class XII of Kenduadihi High School. He lives with his parents at Nakaijuri, Onda in Bankura Dist. His mother Mrs. Anita Goswami is an ICDS (Integrated Child Development Services) worker and the sole earning member of the family. He has scored 92% in the Madhyamik Examination.  With a very low income, it was being impossible for his mother to afford his higher education. Mr. Asim Das, his sponsor came to know from the Mukti TSS team about his struggle for education. Being impressed by his indomitable willpower Mr. Das selected him as his sponsor student.
Encouraged by the social activities of Mukti, he has also engaged himself in social service. To protect the environment and raise awareness in December 2021 he helped the local club to distribute flower plants to 44 villagers. He hasn't taken any fees for his work.
Tanwi Podder
Mukti TSS Student Tanvi Poddar is Taking Care of a Sick Woman
Tanwi Podder is a class XII, Science student of Kamala Girls' School. She lives at Kalitala,Laskarpur , Garia. She has three members in her family. Mrs. Kakali Guha her mother does tuition to bring her up. Sometimes her maternal aunt helps them. Tanwi wants to get educated and grow up to serve the people, wants to alleviate the grief of her mother. But due to financial inefficiency, no dream can be fulfilled. With a lot of hope, she applied to Mukti TSS and gets Ms. Sangeeta Bhattacharya as her sponsor.
In December 2021 she takes care of sick old women.
Mukti is proud of all these students. Mukti thanks the students, their sponsors and parents, inspired by whom, the students have chosen to serve society as well as to improve themselves, as their goal.