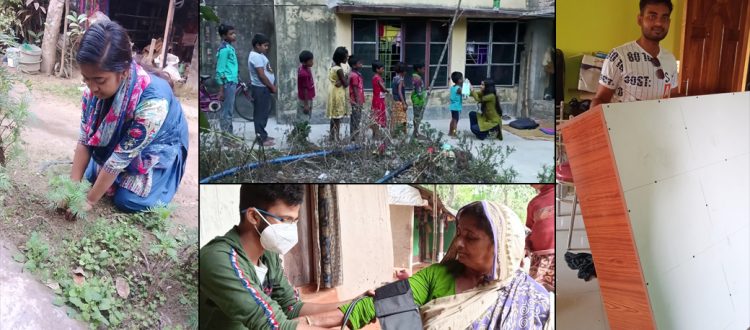 Mukti TSS Students and Their Social Activities
Haragopal Dutta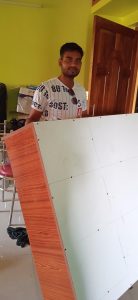 Haragopla Dutta is pursuing his M. Sc. 4th semester (Genetics and plant breeding) at Indian Agricultural Research Institute (IARI), New Delhi. He stays at Kishorimohanpur village, PS--Maipith Coastal in the South 24 Parganas district of West Bengal. His father Mr. Chakradhar Dutta is a farmer and also works as a daily laborer. His mother Mrs. Pritilata Dutta Das is a homemaker. His younger sister is a school student. He wishes to become a horticulturist and wants to help the farmers with improved ways of cultivation and a better variety of seeds. Mr. Ramesh Kacholia is supporting his studies so that one day he can make his dream come true.
He have come to his home on 12th April 2022 and went to one of his friend's house –   Nandita Chakraborty. She lives in Krishnanagar; Nadia. She lost her father and grandfather during Covid and was helpless. He has helped the family by shifting their home furnishings to their new flat for 3 days.
Poulomi Vidayanta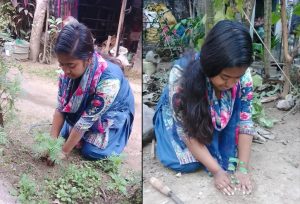 Poulomi Vidayanta is a Science student in class XIII of Guptipara High school. She resides with her family at Hatkholapara village, PS – Guptipara, Block- Balagarh, of Hooghly district in West Bengal. Her parents are Mr. Purnendu Vidyanta and Mrs. Aparna Vidyanta. Her father works as a daily laborer and her mother is an ASHA (Accredited Social Health Activist) worker. The sponsorship of Ms. Meredith Brice Pinkerton is helping her to reach her goals.
Besides, providing free tuition she is also protecting nature by planting trees. She has helped kids to fill up their forms.
Mousumi Acharya
Mukti TSS Student Mousumi Aacharya Distributed Masks to 21 Underprivileged Kids
Mousumi Acharya is a 1st-year student of Mathematics Honors at Rammohan College.  She lives with her parents and elder brother at Raidighi village in the South 24 Parganas district of West Bengal. Her father is a local priest and her mother is a homemaker. Her elder brother is pursuing MA in English Honors. Mr. Chanchal is supporting her in her higher studies.
During Covid besides distributing masks to 21 kids, she has made them aware of the ill effect of the virus and has taught them good hygiene practices.
Ajijul Mallick
Mukti TSS Student Ajijul Mallick is Checking the Blood Pressure of the Underprivileged Patients
Ajijul Mallick is a medical student pursuing 1st professional M.B.B.S from Bankura Sammilani Medical College. He resides with his mother and elder brother at Durgarbankati village, P.O- Uttarbil, P.S- Garhbeta of Paschim Medinipur district in West Bengal. His father passed away in 2016 when he was in class XII. After his father's death, his brother inherited the farming occupation of the family. He wants to do MD after completing his MBBS. Financial constraints forced him to apply to Mukti TSS for sponsorship. He considers himself fortunate as Mr. Soumya Sarkar selects him as his sponsored student.
Being a medical student he has checked the blood pressure of 10 unprivileged patients in total free of cost.