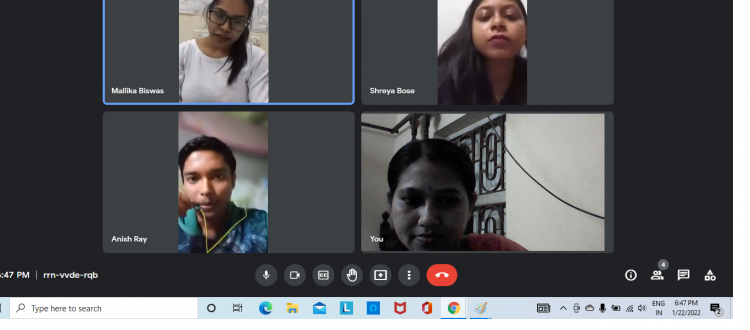 Mukti TSS Sponsor Student Meeting between Ms. Mallika Biswas and Anish Dey
In this dire Covid situation when schools colleges are closed and students are skeptical of their uncertain future, to keep the morale of the students steady and strong the Mukti TSS (Talented Student Sponsorship) team is organizing virtual sponsored student meetings regularly. Mukti thinks that such meetings will not only strengthen the bond between the sponsors and the students but also reassure the students that there is someone to be by their side to take care of them.
With this thought, on 22nd January 2022, Saturday Mukti TSS team conducted a virtual meeting between Ms. Mallika Biswas and her sponsored student, Anish Roy.
Ms. Mallika Biswas was a Mukti TSS student from the year 2013-17. During this period she was supported by Mrs. Mitra Das from Mukti Australia. This alumni student of Mukti TSS passed B. Tech in 2017 and since then is working in ONGC Petro additions Limited in Gujarat as Senior Executive-Process Engineer. Ms. Mallika is associated with Mukti from this academic session, 2021-22 and is sponsoring Anish.
Mukti is proud of her and thanked her for keeping her promise to sponsor a needy yet talented student, after her establishment. Anish may not be able to continue his studies without her help.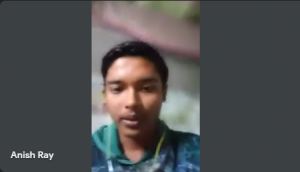 Anish is a resident of Gopinathpur village, South 24 Parganas District in West Bengal. He is a general category student. He is pursuing class XI in the Science stream from Khanrapara High School. He has an elder brother who is in class XII with a vocational course. His father is a tailor but he has no fixed income and his mother is a homemaker. He passed Madhyamik from Mathurapur High School with 89.3% marks. He dreams of becoming a doctor in the future. He is determined to give his family a contented life. That is why he has put aside all the pleasures of his age and has devoted himself to studies.
This is the first time they met each other and interacted. Ms. Mallika shared her own experience to motivate Anish. Meeting Anis, Mallika was remembering her own days, the days of her struggle as a student. She could understand his troubles as she herself had gone through such days. She assured Anish that she will always be his side and support him in this utmost difficult time and advised him to be very focused in his studies.
Anish expressed sincere gratitude to his sponsor and requested her to guide him till he achieves his goal.
Both of them expressed pleasure in meeting each other. The meeting ended with a promise to meet again.