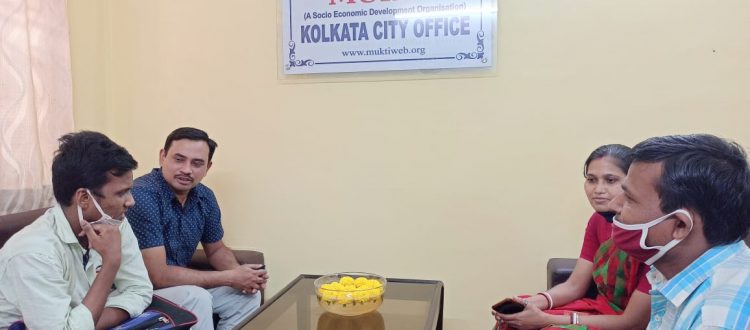 Mukti TSS Sponsor Student Meet between Mr. Avirup Banerjee and Rakhiaj Molla
We're living in an unprecedented time – the Corona virus pandemic is impacting all of us and the situation is changing every hour. It's easy to feel overwhelmed and out of control for those who are more vulnerable and less able to seek the help and care they need.
Whatever may be the situation education must not be stopped. To strengthen the confidence of the students and to make them feel that they are not helpless Mukti TSS team organised a non virtual meet on 27.03.21, Saturday at the city office of Mukti. The meeting was between Mr. Avirup Banerjee and his sponsored student, Rakhiaj Molla.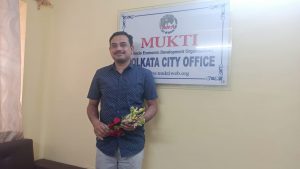 Mukti TSS team is sincerely thankful to Mr. Avirup Banerjee for his generous support to Rakhiaj Molla.
Mr. Avirup is associated with Mukti since 2018-19 and currently he is sponsoring Rakhiaj Molla. By profession he is an engineer.Mr. Alauddin Molla, father of Rakhiaj Molla also attended the meeting.
Rakhiaj is presently a student of class XI in science stream, from Krishnachandrapur High School. He stays at Krishnachandrapur village in the district of South 24 Parganas. He had passed Madhyamik Examination in 2020 with 97% marks. A bright future is waiting for him. With a very low income it was very difficult for his father to continue his studies. Most of his income is spend for household requirements. Poverty stood between desire and capacity.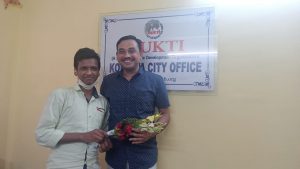 From the very beginning Rakhiaj was very much focused on his career. At his hard times also he didn't give up hope. He wants to aspire as a MBBS. With a lot of hope and to achieve his dreams he applied to Mukti TSS for sponsorship.  He was selected by Mr. Banerjee as his sponsor student.
Mr. Banerjee had a detailed discussion with Rakhiaj about his career. Mr. Banerjee advised him not to get worried and to be focused in his studies as he will be standing by him till he achieves his dream. He discussed how to overcome the challenges. Mr. Banerjee shared his own experience to motivate Rakhiaj. Mr. Banerjee expressed his curiosity to know what the extracurricular activities that Rakhiaj is interested are. He wishes Rakhiaj to be a good human being.
Rakhiaj showed his gratitude to Mr. Banerjee. The generosity of Mr. Banerjee has encourages him not only to continue to be hopeful, but also to continue his academic path.
The meeting went successful and both of them expressed their pleasure.