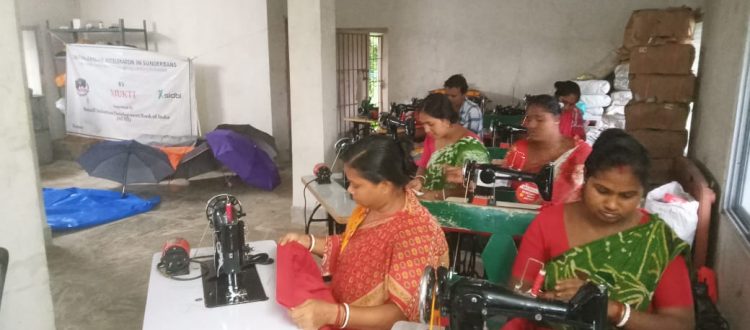 Mukti Tailoring Training Program for Women Escalation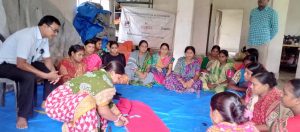 The meeting on tailoring training that Mukti, in association with SIDBI (Small Industries Development Bank of India), organised on 25th August 2021 with the MCDF members at the SWAS (Swabalamban Accelerator in Sundarban)/ SIDBI training center at Kankandighi GP, has been able to create interest among women. 40 women of MCDF enrolled their name for the training program.
The tailoring training started from 08th September and it will take 2 months to complete the full course. Initially, they have started to make petticoats. Under the guidance of the full-time instructor Mr. Biswajit Pramanik, the women are learning nuances of tailoring like names and functions of parts of the sewing machine, cutting, stitching and designing.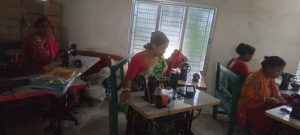 The tailoring training session runs from 11 am to 4 pm with 15 sewing machines, through practical and theoretical classes with equal opportunities. To follow this process, they are learning time management and interpersonal relationship in the center.
Mukti is providing them the necessary learning appliances and after fulfilling the course they will receive a tailoring kit from Mukti containing cloth, threads, needles, scale, scissors, chalk and measuring tape.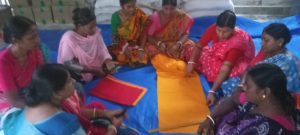 Now, each of them is making 2-3 pieces of petticoats in a day but they will be able to make 30-40 pieces each day after the course completes.
Mukti will help them to market the products through Mukti Craft. But at first, they will have to self-promote their products in their neighbors. This will help to build up self-confidence among them.
Mukti is thankful to SIDBI for supporting the MCDF members to conduct job-oriented skillful training and livelihood opportunities for the poor and needy women & adolescent girls in time.
Gallery link: https://muktiweb.org/gallery/tag/SWAStailoringtraining