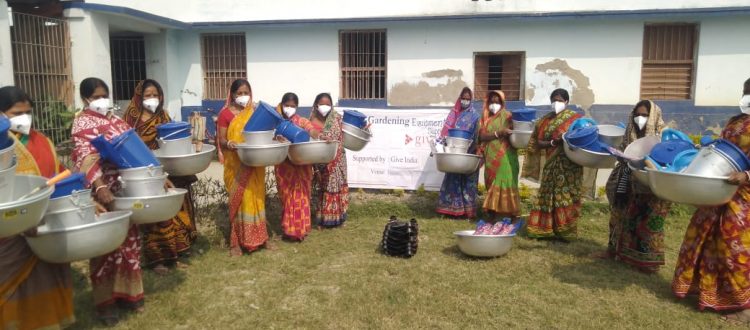 Mukti Supported the Small Farmers with Kitchen Garden Equipment
When access to healthy and nutritious food became a serious concern, especially in remote places like Sundarban, Mukti with "Give India" at the grass-roots level came up with an innovative solution. This solution is not only providing the communities with a diverse and rich diet but also building their immunity and resilience. It has been proved to be an income-generating source too. Since the aim of Mukti is to come up with sustainable solutions, one of the unique ways we tried to combat hunger and nutritional security is by promoting the creation of kitchen gardens.
Since last September 2021, Mukti with the support of "Give India" is distributing vegetable seeds of Beans, Radishes, Red Amaranth, Pumpkin, Coriander and vegetable seedlings like Chili, Beetroot, Cauliflower, Turnip, Tomato etc. Mukti has organized several training programs for the farmers to educate as well as assist them to adopt the techniques of organic farming.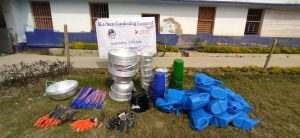 Mukti is thankful to "Give India" for supporting the farmers with kitchen garden equipment.
From 18th January 2022, Tuesday Mukti has started to distribute kitchen garden equipment tools. 1,000 families of 8 villages of Nagendrapur and Kankandighi GP will be supported with 11 items- chopper, spade, small spade, tub, khanta, knife, sprayer, bucket, watering can, sickle & dustbin.
On 18th January 25 families of Nagendrapur GP have been supported with the kits.
As this is an ongoing project, very soon Mukti will distribute the equipment to the other beneficiaries too.
Mrs. Tapasi Sapui, Thanked Mukti and Give India for Supporting Her with Kitchen Gardening Equipment