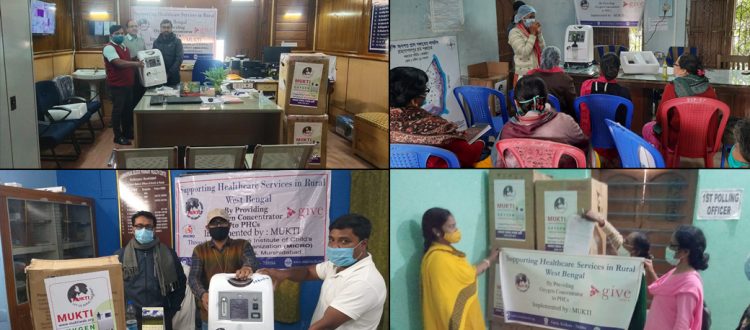 Mukti Supported Oxygen Concentrators Strengthening Rural Healthcare Services
"Give India" supported Mukti with 1020 oxygen concentrators not only for the patients of Covid-19 but also for those rural wretched patients who do not get any oxygen support in case of an emergency which is the mainstay of life.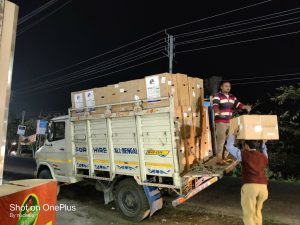 Mukti from 7th December 2022 has started distributing them. Under the initiative – "Supporting Healthcare Services in Rural West Bengal" till date Mukti has distributed 863 oxygen concentrators to various Government PHCs (Primary Health Care) and Rural Hospitals (RH) in 12 districts of West Bengal. These OCs are non-refundable and are deployed for the indigent rural population so that they can access healthcare facilities at the time of dire need.
Before the distribution, Mukti has identified regions where the caseload is high and where oxygen supply is inadequate. Mukti is working with the health department, district administrations and local population to identify specific PHCs and RHs where there are insufficient oxygen beds or none at all.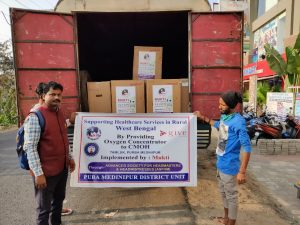 The details obtained from the health department and district administration are evaluated by Mukti. Mukti then contacts the network hospitals in the respective district and provided training to the PHCs and RHs staff on safe and efficient usage of the equipment and on protocols that will help the staff manage patients with low oxygen levels.
Mukti is grateful to "Give India" for realizing the adversity of the rural healthcare system and therefore providing oxygen concentrators for the needy and helpless.
| | |
| --- | --- |
| District | Number of Oxygen Concentrators |
| Paschim (West) Medinipur | 67 |
| Purba  (East) Medinipur | 40 |
| Jhargram | 3 |
| Dakshin (South)  24 Parganas | 315 |
| Uttar (North) 24 Parganas | 93 |
| Howrah | 30 |
| Malda | 100 |
| Murshidabad | 35 |
| Birbhum | 100 |
| Alipurduar | 70 |
| Bankura | 10 |
| Siliguri | 150 |
| 12 districts | 863 |
Gallery link: https://muktiweb.org/gallery/tag/Giveindiaoxygenconcentrator