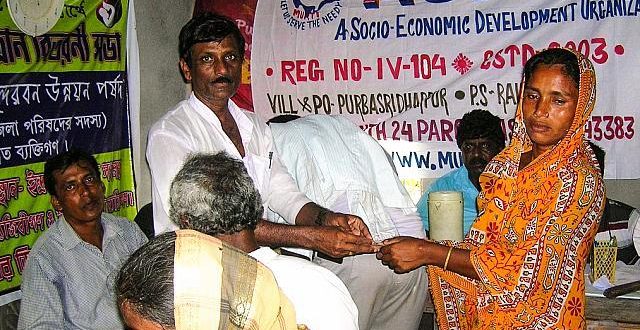 Mukti Stand Beside Dead Fishermen Families In Sunderban-A Report From Mukti Volunteer
MUKTI have a decade old experience in working in the Sunderban areas. However, the relief work for seven fishermen families were deep in the jungle in a difficult terrain – Patharpratima.  However owing to god's grace we could sail through logistic issues, communication challenges, recent political turbulence in the civic polls and the series of earthquake added to the delay. FYI, an indigent group of seven fishermen went to the sea for fishing in last December and a sudden storm in the dark night capsized their boat. Mukti decided to help the victimized families for their survival and the first phase of aid work was accomplished.
I am happy to let you know because of your benevolent support MUKTI conducted the relief work to the 7 families of the deceased fishermen on May 7th. The event was conducted in the Block Fishermen Union office, in the presence of the Local Village Government head, other Panchayat officials, fishing union members and MUKTI Field Officers. Each of the families received 75 kgs. of rice and Rs. 1,000. We deviated from the 100 kg rice distribution – as the fishermen families requested for monetary help. This would take care of their other short term needs. All the 7 families were present and thanked MUKTI and its supporters.
As a next step, we are looking to train one person from each of the families for livelihood in the village. Already 5 families have shown interest and other 2 would get back to us soon. We will have the final discussion with the families and training partners around mid- May. I hope we will be able to finalize about long term rehabilitation of these 7 families.
One promising news that you will be delighted to hear is that we have already received the expenses for the training program and start-up loan amount from philanthropic friends from far Singapore. We thank each of the kind hearts whole heartedly and appreciate your help in changing these lives for betterment. We are proud of our Field Officers hard work – this was a first-in-kind work by MUKTI in this village block.