Mukti Set Up Several Mobile Medical Camps in Sunderban
Mukti is continuing medical service to the Amphan victims of Sunderban for last 2 months. Last week 645 patients from various blocks got free of cost treatment from the doctors appointed by Mukti. Till now around 30,645 patients are benefitted by this service of Mukti.
Mobile medical camps are made for that vast number of rural people who don't have access to basic healthcare. They can get medical help in an easy and affordable manner through these camps.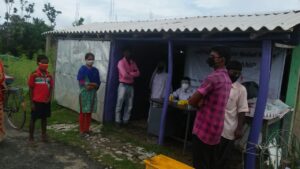 Mobile healthcare services of Mukti comprised makeshift medical camps under a tree, on the outskirts of villages. These medical camps are equipped  with a doctor and a compounder who were trained to recognize symptoms of health related ailments, conduct basic diagnosis of common diseases, prescribe medication and referrals to specialized doctors in case of further medical complications. Through these camps Mukti volunteers are raising awareness, ensuring preventive vaccination and encouraging regular medical check-ups among the rural population.
Mukti volunteers along with the donors "Rural Health Care Foundation" and "Kolkata Foundation" are doing their best in service of the poor and needy.
Village Name
Gram Panchayat
Block
Number of Patients Treated
Number of

Medicines

Bishalaxmipur, Najrul Sanhga
Budhakhali
Namkhana
71
213
Fotickpur, Janapara
Budhakhali
Namkhana
45
135
Bishalaxmipur
Budhakhali
Namkhana
78
234
Hatuyar Gheri
Kankandighi
Mathurapur II
112
336
KansariPara
Kankandighi
Mathurapur II
46
138
Shibnagar Birendrapally
Banashyamnagar
Patharpratima
55
165
Choto Banashyamnagar
Banashyamnagar
Patharpratima
64
192
Gangapur
Banashyamnagar
Patharpratima
81
243
Bhubaneswari
Ghurghuria Bhubaneswari
Kultali
73
219
Paschim Debipur
Ghurghuria Bhubaneswari
Kultali
74
222
Gangasagar
Gangasagar
Sagar
89
267
Mritonjoynagar
D.S 2
Sagar
48
144
12 Villages
6 Blocks
5 Blocks
836
2508