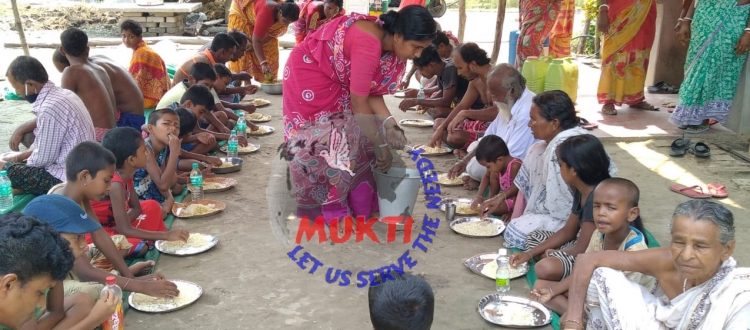 Mukti Serving the Yaas Victims with Healthy Food through the Community Kitchens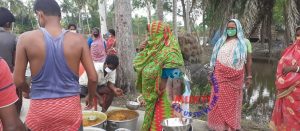 The cyclone Yaas has forced the people to take shelter in shelter homes after their houses were destroyed. The survivors are facing lack of food and water. Mukti is helping the victims of Cyclone Yaas with food and water in Sundarban.
Mukti has set up many community kitchens to provide hot, balanced, nutritious cooked meals to the victims. In those kitchens women are cooking free meals hygienically. Mukti is serving one time meal to each of these community kitchens.
Everyday Mukti is feeding hundreds of hungry people with rice, lentil and soybean curry through these community kitchens.
| | | | | |
| --- | --- | --- | --- | --- |
| Number of Community Kitchens | Village Name | Gram Panchayat | Block | Number of Beneficiaries |
| 5 | Purba Sridharpur | Nagendrapur | Mathurapur II | 595 |
| 1 | Kalirghery | Kakandighi | Mathurapur II | 250 |
| 1 | Sitalmaity | Kakandighi | Mathurapur II | 600 |
| 1 | Bagrabuni | Kakandighi | Mathurapur II | 231 |
| 1 | Raidighi I | Raidighi | Mathurapur II | 133 |
| 1 | Raidighi Srifaltala Purba | Raidighi | Mathurapur II | 134 |
| 1 | Raidighi Srifaltala Uttar | Raidighi | Mathurapur II | 98 |
| 1 | Naran Pur | Kumropara | Mathurapur II | 47 |
| 1 | Mahabat Nagar | Kumropara | Mathurapur II | 70 |
| 2 | Uttar Debipur | Debipur | Kultali | 220 |
| 1 | Uttar Debipur Satkari FP | Debipur | Kultali | 130 |
| 2 | Shyam Nagar | Deulbari | Kultali | 120 |
| 1 | Sankijahan | Deul bari | Kultali | 60 |
| 1 | Madhya  Gurguria | Gurguria | Kultali | 60 |
| 1 | Purba Gurguria Halder gheryi | Gurguria | Kultali | 150 |
| 1 | Madhu Khali | Itkhola | Canning | 490 |
| 1 | Redho Khali | Itkhola | Canning | 320 |
| 1 | Sona Khali Vasa Para | Ramchandra khali | Basanti | 410 |
| 1 | Charane Khali | Uttar Mokamberia | Basanti | 380 |
| 2 | Sonargaon | Gosaba | Gosaba | 400 |
| 27 | 21 Villages | 11 GPs | 5 Blocks | 4898 |