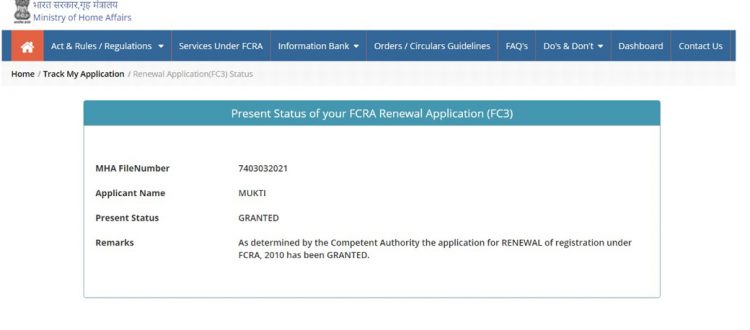 Mukti Receives FCRA Certificate
Mukti is delighted to announce that the FCRA certificate of the organization has been renewed without any hassle by the Ministry of Home Affairs, Government of India on Wednesday 23td February 2022.
Foreign contribution regulation Act 1976 or FCRA is a law implemented by the Ministry of Home Affairs, Government of India which manages receipt of foreign contributions or help from outside India to Indian areas. This is important to ensure that such help does not affect political or other circumstances in India. An NGO relates getting subsidiaries from abroad presuming that it has an international financing registration declaration.
There are two types of foreign contribution regulation act certificates – A prior consent certificate which is possible after one year and a long-term certificate for 5 years. Mukti on 27th July  2021 has applied for renewal of registration for 5 years. To get the approval Mukti has submitted all the necessary documents. A team from the Ministry visited the villages and site offices of MUKTI on 5th January 2022 and sent a satisfactory report to the head office in Delhi.
Mukti has been granted FCRA for its exemplary work and achievement in the areas like Education, Women Empowerment, Health, Agriculture, Environment, Livelihood and Rights for the people of Sundarban.
Through this certificate, Mukti will be able to approach different foreign financing companies for aid.