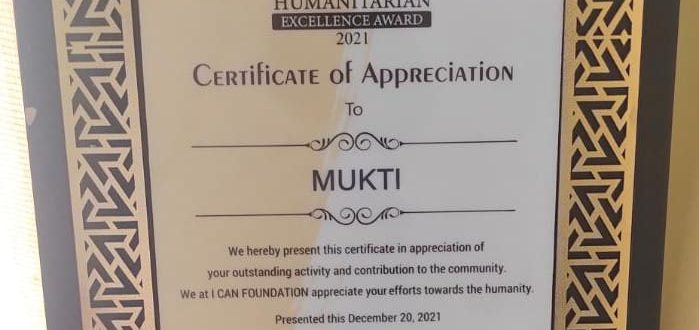 Mukti Receives Certificate of Appreciation Under HEA
Mukti received a certificate of appreciation from "I Can Foundation". The Organization presented its good work to the jury from "I Can Foundation" under Humanitarian Excellence Award (HEA) 2021 on 24th November 2021. The Organization cleared the first stage of the award and received the appreciation certificate. The certificate is presented to the organization working on grounds irrespective of race, occupation, position, gender or religion. This award is given for exceptional service or performance of the highest order in the social field of human endeavor. HEA serves as a platform for recognition of efforts, talent & success.
Mukti is thankful to the "I Can Foundation" for recognizing its efforts on the ground.