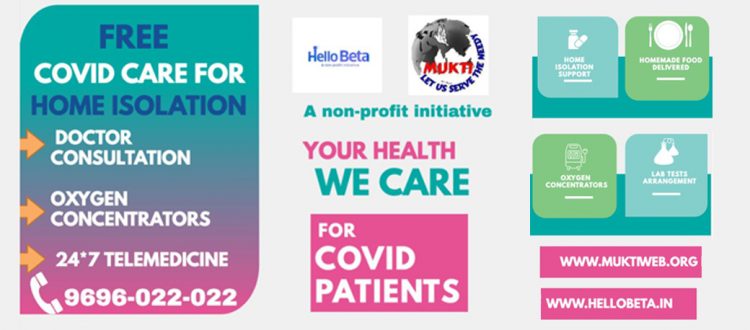 Mukti Reactivated "Hello Beta" Services to Support the Covid Patients
Coronavirus cases have been on a steep rise since the arrival of the Omicron variant in India. Doctors are expecting that the third wave has arrived in India as the cases have increased exponentially over the last one-two weeks and are expected to continue to rise in the near future. Although the Omicron variant is not as dreadful as the Delta variant, its transmission rate is much higher. Its contagion capacity is almost irresistible regardless of city or village. In this crisis, we must take care of the elderly and the vulnerable.
In doing so Mukti has reactivated the empowered version of "Hello Beta" Services to support the home isolated Covid patients in Kolkata and beyond to combat the third wave of Covid-19. The initiative is now supported with Consultation with the doctors; Medicines consented by the Government, Food, Groceries, Lab support, and O2 Concentrators. A 24X7 doctor's helpline is set up where a pool of doctors has been supporting the cause.
To avail the nonprofit humanitarian services please call- 9696-022-022
Or,
Visit- www.hellobeta.in