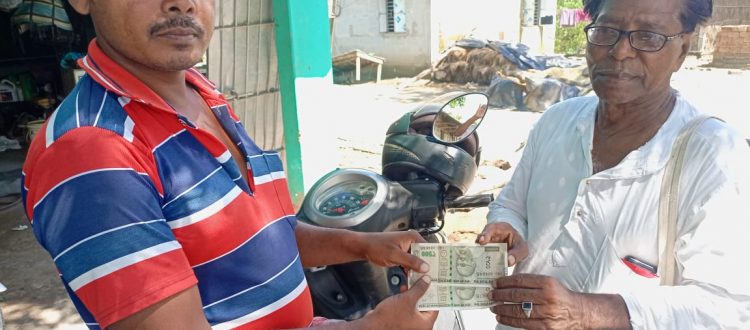 Mukti Provided Cash Support for Dewatering to the Pond Owners Affected by Yaas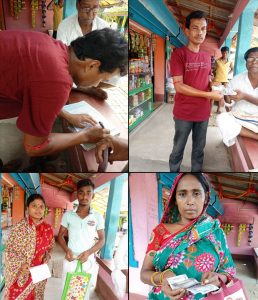 At the time of cyclone Yaas, saline water breached the embankments and polluted all the drinkable water sources including ponds and deep tube wells. Several villages on the remote islands of the Sunderbans and the coastal belt in West Bengal are facing an acute drinking water crisis.
To meet the crisis Mukti identifies 38 ponds in different blocks of the Sundarbans which are used by the maximum number of villagers for their daily work. Mukti at once starts the dewatering process. After removing the salt water from the pond, fortunately, the monsoon started. Mukti no longer has to fill the ponds with fresh water.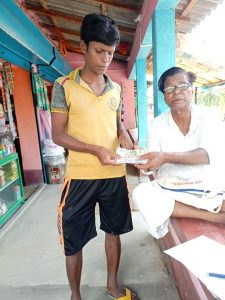 Mukti Working Committee members decided in a meeting that 50% of the money saved would be given to the owners of the 38 ponds so that they could renovate the ponds in the future as per requirement. They are provided this money on an hourly basis (Time taken to fill the pond by running the pump) depending on the measurement of the pond.
Mr. Bijoy Krishna Halder, the senior working committee member of Mukti provided the predefined amount to the owners of the ponds of Nagendrapur, Kankandighi GP under Mathurapur block II and Herembogopalpur GP under Patharpratima block of South 24 Parganas district.
| | | | |
| --- | --- | --- | --- |
| Area | Gram Panchayat | Block | Number of Beneficiaries |
| Kali Gheri | Kankandighi | Mathurapur II | 5 |
| Moktargheri | Kankandighi | Mathurapur II | 4 |
| Baradanagar | Nagendrapur | Mathurapur II | 21 |
| Kuyemuri | Herembogopalpur | Patharpratima | 8 |
| 4 Areas | 3 GPs | 2 Blocks | 38 |
The beneficiaries expressed their gratitude to Mukti for helping them on their day of difficulty.
Gallery Link: https://muktiweb.org/gallery/album/villagers-of-nagendrapur-and-kankandighi-gp-received-payment-for-dewatering-from-mukti