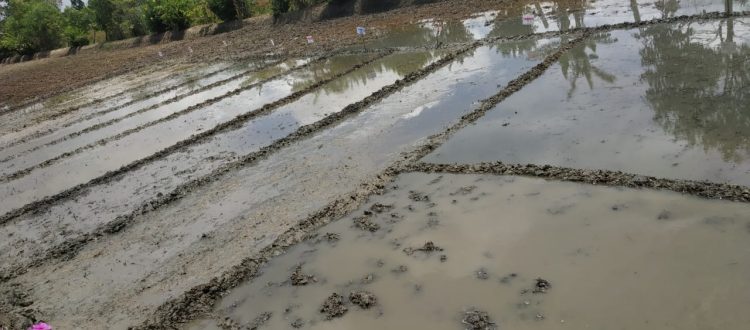 Mukti Preparing Salt Tolerant Paddy Seedbed
Mukti, to support the framers has prepared salt tolerant paddy seedbed in the field of Mukti SAM (Sustainable Agricultural Movement) office at Purba Sridharpur. Sundarbans is a cyclone-prone region; every year due to the devastating cyclones saline water enters the cultivated land and causes huge damage to rice cultivation. The ingress of saline water not only kills standing crops but increases the salinity of the soil and makes the cultivation of regular high-yielding varieties almost impossible for the next few years. This may result in a food crisis in the region which suffers natural disasters at an increased frequency.
To provide a sustainable solution to the farmers, Mukti, on one hand, is preserving salt-tolerant paddy seeds and on the other is creating salt-tolerant seedbeds. The seedbed has been created on 3 Katha of land by collecting mud and by leveling and smoothing the surface. Seeds will be scattered on this land and the seeds will remain there till seedlings appear. The seedlings will be uprooted and will be transplanted to the field for yielding. A seed bed made in 3 Khata land can be cultivated in 40 Khata land. The paddy that has been sown is Bahurupi, Kerala Sundari, Tulsi Mukul, Kalo Mota, Kalabati, Aghanibara, Radha Tilak, Dehradun and JP 110.