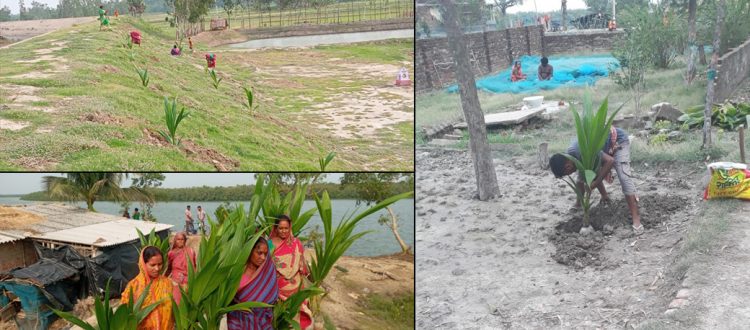 Mukti Planted Coconut Saplings to Restore the Environment
Sports Complex Ground
Mukti has planted 50 coconut saplings around the 80-meter X 80-meter boundary of the sports complex. Along with greening, the trees will also beautify the sports complex. On 3rd June 2022, Friday 3 hard laborers planted the saplings. After plantation MCDF (Mukti Community Development Fund) members are watering and nurture the plants.
These saplings have been grown in Mukti nursery. Very soon Mukti will start the landscaping work by planting flowering and shrub types plants.
River Embankment at Damkal, Bhangar Khal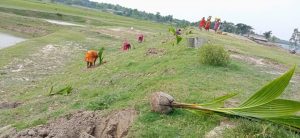 For the protection of the river embankment, greening and beautification of nature Mukti has planted Coconut saplings on the countryside slopes of the river embankment of river Mani at Damkal, Bhangar Khal.
Plantation work has been carried out for 3 days (9th – 11th June 2022) over an area of about two kilometers along the banks of the river Moni and 200 saplings have been planted. Under the supervision of 1 supervisor, 10 MCDF (Mukti Community Development Fund) members have been engaged in the plantation and nurturing work.