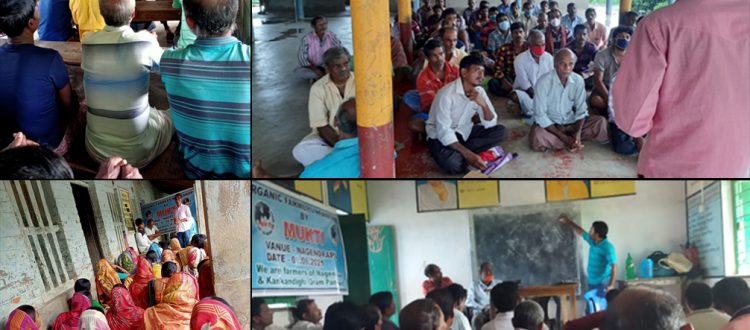 Mukti Organised the Second Phase of Organic Farmers' Meeting for the New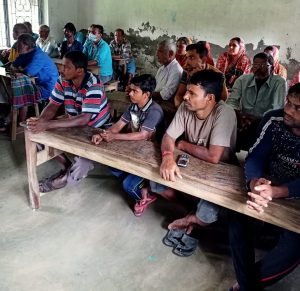 The second phase of organic farmers' meeting started from 6th September 2021. Of the 12 meetings, 3 are held in August and the rest are held in September. In August 139 new farmers from Kankandighi GP attended the sessions of the meeting.
We are sincerely thankful to "AID" (Association for India's Development) for supporting us to make our projects successful.
At Nagendrapur GP SAM (Sustainable Agricultural Movement) project coordinator, Mr. Sourabh Kayal with the other SAM project members Mr. Aravindo Mondal, Mr. Laxmikanta Sardar, and Mr. Selim Seth conducted the meetings. Another meeting is organised at Kankadighi GP SAM project members Mr. Pintu Kumar Purakait, Mr. Prabir Purakait, Mr. Ramprasda Majhi, and Mr. Amit Halder conducted the meetings.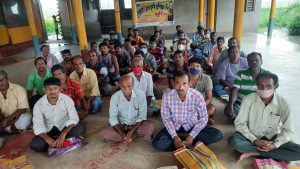 At present Mukti is having 700 organic progressive farmers (200 old and 500 new farmers) and Mukti has a target to include more farmers who will willingly opt organic farming. It will be their completely personal desire whether they will work with Mukti or will work individually.
To achieve this objective Mukti is organizing meetings at different places of Nagendrapur and Kankandighi Gram Panchayat.
The main aim of the meetings is to motivate the farmers for organic farming, to teach them about the utilization of manure and pesticide and to show them the correct path how to cultivate organically.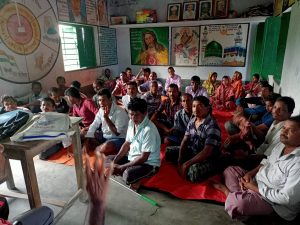 To motivate the farmers, SAM project members emphasize five very important topics – 1) profitability, 2) personal safety, 3) natural resources stewardship, 4) consumers and public health and 5) honor and tradition.
Farmers are given knowledge on how to make various organic manures and how to make and use pesticides to protect the crop from insect attacks.
Farmers gained knowledge on how to properly cultivate organic vegetables. The methods, timing and increase in production of organic farming are discussed in detail.
In conventional farming pesticides and chemicals sprayed on plants contaminate the soil, water supply, and air. Not only does organic farming build healthy soil, but it helps combat erosion. Organic farming not only helps preserve more natural habitat areas but also encourages birds and other natural predators to live happily on farmland, which assists in natural pest control. Organic farming encourages healthy biodiversity, which plays a critical role in how resilient, or not, a farm is to issues like bad weather, disease, and pests. Additionally, reduced biodiversity may directly correlate with a rise in infectious diseases, which of course, isn't good for people or the planet.
Farmers have been told about the usefulness of organic food on human health. Organic food has higher nutritional content and contains more vitamins and minerals than chemical-rich foods. The nutrients present in organic food can be beneficial in preventing dangerous diseases. Organic foods usually do not contain toxic substances as they do not use harmful substances like chemicals, pesticides, drugs, preservatives. The body's immunity is also strengthened by the consumption of organic food. It tastes better and is considered beneficial for all ages.
Date
Place
Gram Panchayat
Number of Participants
05.09.21
Uttar Kankandighi Mundapara
Kankandighi
28
06.09.21
Damkal
Nagendrapur
36
Purba Jata Hatua gheri
Kankandighi
39
08.09.21
Baradanagar Sahoopara
Nagendrapur
42
09.09.21
Nagendrapur Adibasi Para
Nagendrapur
38
11.09.21
Damkal Chatterjee Para
Nagendrapur
61
11.09.21
Paschim Jata Kansaripara
Nagendrapur
52
13.09.21
Purbasridharpur SAM office
Nagendrapur
72
15.09.21
Nagendrapur Manna para
Nagendrapur
38
 
9 Places
2 GPs
406
Gallery link: https://muktiweb.org/gallery/tag/Organicmeeting2021