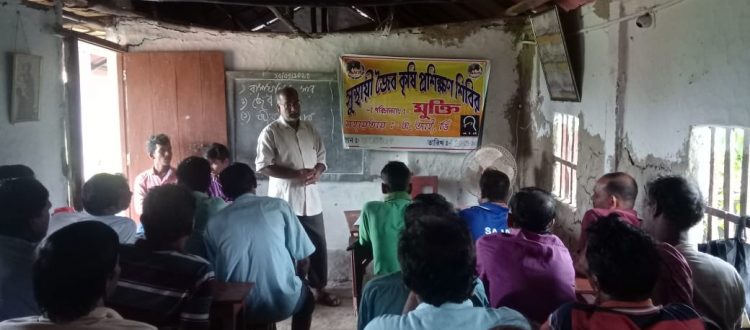 Mukti Organised Organic Training Programs for the Production of Detoxified Crops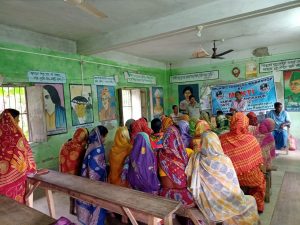 The threat to chemical farming has shed light on the direction of organic farming and is the best natural tool to fight it. Before the ecosystem falls out of our hands, it is time to begin an ecological revolution. To be a part of this revolution, like every year, this year too Mukti plans to educate more conventional farmers about organic farming.
Organic farming is nature's way of farming with the adoption of our non-synthetic traditional agricultural knowledge i.e. farmer is just creating a composure environment where crops can grow. This farming method can overcome the ill effects caused by the adoption of chemical farming and it shall increase agricultural production and productivity in a healthy way without affecting the ecosystem balance for the growing population.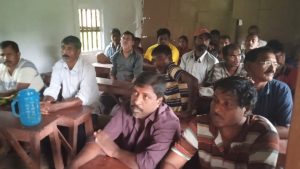 Aiming to provide healthy food to meet the needs of this huge population, Mukti has arranged organic farming training for farmers in many places of Sundarban. Through this training program, farmers will be imparted both theoretical and practical knowledge. The training programs started from 09th September 2021, Thursday and will continue.
The objectives of the program are – skill development of agricultural youth to create job opportunities in the organic sector mainly in the area of organic production, on-farm resource management, input production, quality control, PGS (Participatory Guarantee System) certification and marketing of organic produce.
Throughout the training session the farmers are trained on:
Introduction, principles and need of organic farming.
Soil health build-up in organic farming management.
Organic farming an integrated approach.
On-farm input generation and resource management.
Recycling of organic matter.
Traditional organic input preparation or formulation of Bio-fertilizer, bio-pesticides, plant health promoters including waste decomposer use in organic farming.
Organic manure preparation and introduction to compost, composting and its value addition quality.
Introduction to different agriculturally useful Biofertilizer and Biocontrol agents including Integrated Pest Management.
Economics of organic farming.
The system of organic certification and inception also including PGS India certification.
Food safety and marketing of organic produce.
Current Government schemes related to organic farming.
To date Mukti has organized training programs at
| | | | | |
| --- | --- | --- | --- | --- |
| Date | Location | Gram Panchayat | Block | Number of Participants |
| 09.09.21 | Dakshin Kankandighi Dacter Gheri | Kankandighi | Mathurapur II | 35 |
| 20.09.21 | Purbasridharpur Sarkarpara  and Samantapara | Nagendrapur | Mathurapur II | 39 |
| 22.09.21 | Uttar Kankandighi | Kankandighi | Mathurapur II | 39 |
| 22.09.21 | Nagendrapur Shakher more | Nagendrapur | Mathurapur II | 28 |
| 23.09.21 | Nagendrapur Adibasi Para | Nagendrapur | Mathurapur II | 40 |
| 24.09.21 | Purbajata Hatuyar Gheri | Kankandighi | Mathurapur II | 38 |
| 25.09.21 | Dakshin Kankandighi Shital Maiti | Kankandighi | Mathurapur II | 36 |
|   | 7 Places | 2 GPs | 1 Block | 255 |
Some of the trainee framers quotes regarding organic farming
Organic Farmer Sharing His Experience and Expressing Gratitude to Mukti
Mr. Srijit Kumar Halder resident of Purba Maynapara village said "I have been doing chemical farming for a long time. I went to attend one workshop of Mukti on organic farming at Purba Sridharpur. After attending the workshop my opinion regarding farming has completely changed. I encourage my associate farmers to opt for organic farming. We have so much confidence in Mukti that we will follow their every instruction while cultivation organic vegetables. We thank Mukti to make us aware of the harm of chemical farming. We want to follow the same path with Mukti in the future too."
Mr. Jagadish Mondal organic farmer of Purba Jata Paschim Maynapara said, "I used to cultivate by following conventional farming. Two years ago I came to know about Mukti. Their revolutionary work on organic farming motivated me. Their work impressed me so much that I at once started cultivating vegetables following the organic method. At present 80% of my products are organic. The quality of the crop has increased. I feel healthier now than before. The outbreak of the disease has decreased a lot. I am very happy to think that the vegetables I produce will not harm any other people. I thank me to motivate and help me just at the right time."