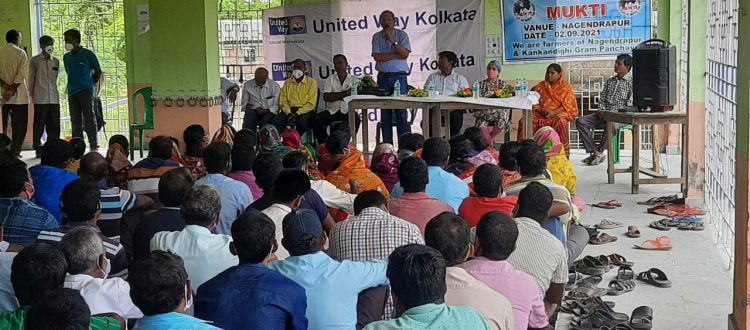 Mukti Organised Organic Farmers Workshop at Nagendrapur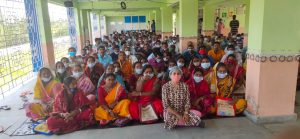 The director of United Way Kolkata Ms. Dipanwita Das on 2nd September 2021 Thursday visited Nagendrapur GP at a time to participate in the organic farmers' workshop and also to visit the mangrove plantation site.
Mukti organised the workshop at Nagendrapur Cyclone Center under Mathurapur II block. The workshop started at 11:30 am and continued till 2:00 pm. Mukti honored her with a bouquet. Mr. Debabrata Halder, the CEO of Mukti and project coordinator of Mukti Fresh, Mr. Iswar Majumder, the advisor of SAM (Sustainable Agricultural Movement) project, Mr. Sourav Kayal, project coordinator of SAM, other Mukti volunteers along with 280 Mukti organic farmers from Nagendrapur and Kankandighi GP attended the workshop.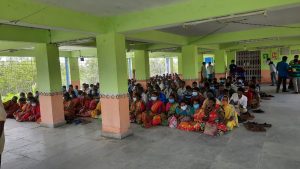 Ms. Das while explaining her visit said that her organization, United Way Kolkata will support 700 farmers for the next 5 years. She came to hear directly from them about the challenges they are facing and to solve them as much as possible. The farmers opened their minds and told her about their problems.
The techniques that organic farmers now use to produce organic vegetables are much older. They want to learn some new methods and tools that will help them to produce more.
In organic farming two types of bio-manures are used – compost (it is organic matter decomposed through composting. The organic matter used here can be a vegetable and plant waste, animal excreta) and vermin compost (it is a product of organic material degradation using various species of worms, to create a heterogeneous mixture of decomposing food waste). Farmers have asked for individual pits to make these two types of fertilizers. Planting pits are used as a precipitation harvesting method to prevent water runoff and thereby increase infiltration and reduce erosion.
95% of farmers have to buy seeds. In order to save money and be self-sufficient, they wanted to learn how they can refine the seeds themselves and restore them for future production.
Lack of awareness about organic products, consumer preference for low price products, pay an extra percentage to the retailer, expensive storage methods, supply-demand disparity, etc are some of the critical challenges that the organic farmers face when they go to sell their products in the market. They sought help to increase the demand for organic products in the market by overcoming these difficulties.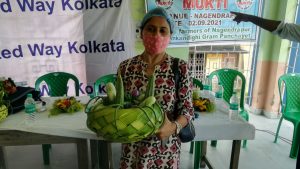 Mrs. Das said that she has understood their plight and with the help of Mukti she would do her best to solve their problem as soon as possible.
Organic farmers presented her a basket made of coconut leaves with 8 types of organic vegetables in it and thanked her for listening to their problems and giving assurance to solve them.
Gallery link: https://muktiweb.org/gallery/album/ms-dipanwita-das-director-united-way-kolkata-visited-mukti-fields-for-organic-farming-and-mangrove-projects