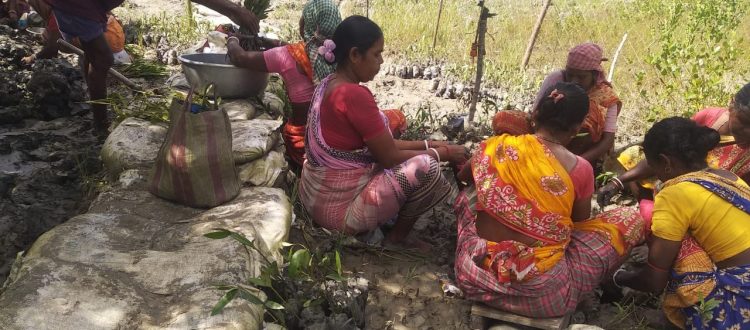 Mukti Nurturing the Mangroves in its Own Nursery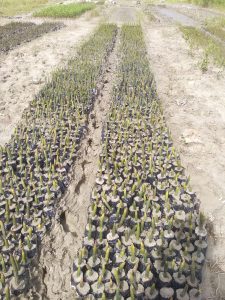 In an initiative to increase mangrove cover in the Sunderbans area, devastated by frequent cyclones, Mukti has set up a target to plant 3 lakh mangrove saplings in a year's time. Apart from providing livelihood to poor villagers, especially women who are in dire straits due to the cyclone, the project will also save the land from natural calamities and breaching of embankments by swollen rivulets crisscrossing the belt in high tides.
To make this objective a success, Mukti has created a mangrove nursery beside rive Thakuran on 3 bighas of land at Ghorapota village of Mukti Gram, Purba Sridhrapur under Nagendrapur GP, Mathurapur Block II of South 24 Parganas district. Mukti has already crated 2.5 lakhs mangrove saplings of 9 varieties including Goran, Tora, Bani, Keora, Genwa, Bata etc.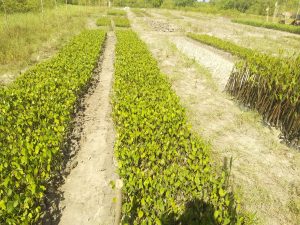 10-11 local women have been engaged to nurture the saplings. They are potting the saplings for future plantations. Seeds from these fruits are being sown in the nursery for growing saplings. The saplings will be planted on the mangrove plantation site beside river Thakuran and across embankments and other places to create a mangrove cover.
The women workers receive food aid of Rs 2,000 per month from Mukti. The project is generating income for many women who were facing financial difficulties due to the Covid-19 lockdown crisis and cyclone Yaas.