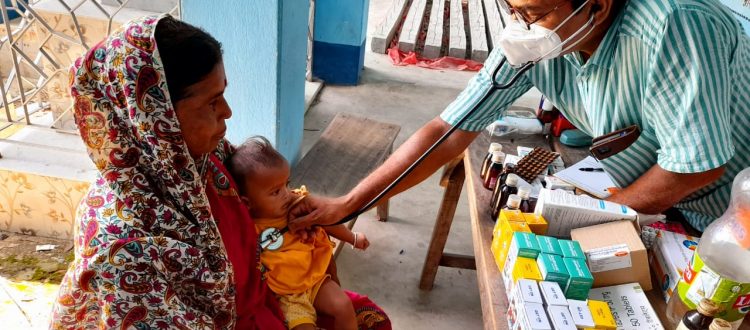 Mukti Medical Camps Healing the Wounds of the Yaas Victims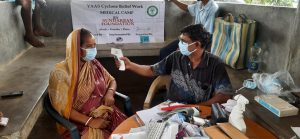 With an aim to provide basic health facilities in Yass-affected far-flung areas of Sundarban, Mukti to date has treated 7128 patients through the 83 medical camps.
Mukti in association with "Kolkata Gives" Rural Health Care Foundation" and "Sundarban Foundation" is providing medical care to the villagers in the area at their doorsteps.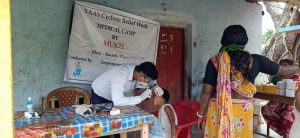 A large number of locals, children, youngsters and elderly alike visited the camps and consulted the doctor. Besides medical consultations and check-ups, medicines were also provided to the people free of cost.
The patients visiting these camps are mostly witnessing cold, fever, skin infections and water-borne diseases and elderly people with back and joint problems are also consulting the doctors. Doctors are treating the patients with great compassion and conscience.
Patients lauded Mukti to organize free medical camps for them.
| | | | |
| --- | --- | --- | --- |
| Village | Gram Panchayat | Block | Number of Patients |
| Bikrampara | Raidighi | Mathurapur II | 121 |
| Kashinagar Daspara | Kashinagar | Mathurapur I | 120 |
| Krishnachandrapur Children Club | Krishnachandrapur | Mathurapur I | 116 |
| Tentultala | Ramchandrakhali | Basanti | 71 |
| Amratala | Uttar Mokamberia | Basanti | 72 |
| Lax Bagan 8 No | Gosaba | Gosaba | 70 |
| Sonaga 7 No | Gosaba | Gosaba | 55 |
| Dulki 5 Nos | Gosaba | Gosaba | 50 |
| Sonaga Rath Mela | Gosaba | Gosaba | 50 |
| Majher Para, Sonaga | Gosaba | Gosaba | 50 |
| Parasmani | Lahiripur | Gosaba | 76 |
| Barisha | Kola I | Kolaghat | 103 |
| Dahijuri Mahatma Vidyapith | Dahijuri | Binpur I (Lalghar) | 33 |
| Pinduri Prathamik Vidyala | Pinduri 8 No Anchal | Pingla | 175 |
| 14 Villages | 10 GPs | 7 Blocks | 1162 |