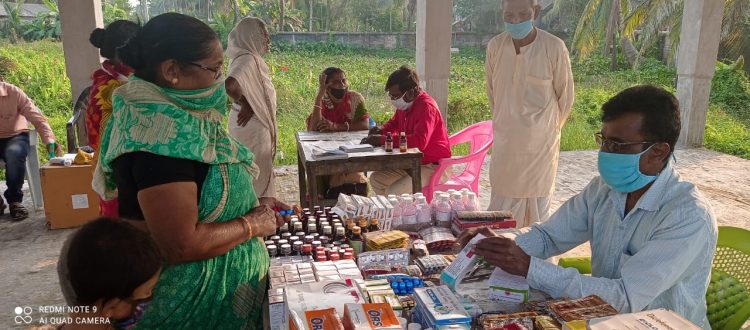 Mukti Medical Camps are On Go to Treat the Patients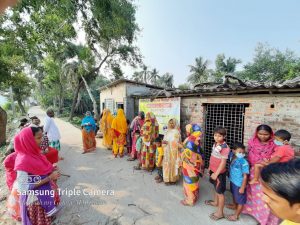 13755 patients received treatment through Mukti Medical Camps. This week also Mukti continued its journey.
The primary focus of Mukti is, bringing healthcare to the rural and tribal areas. With this in view, Mukti had conducted a number of health check-up, first aid training and health education camps in the rural areas of Sunderban.
Mukti volunteers, doctors, medical staffs and our respected supporters "Rural Health Care Foundation" and "Kolkata Foundation" worked full heartedly and by challenging each difficulty made the effort a grand success. Patients received medicines free of cost and their positive feedback made Mukti motivational.
A brief report of the camps conducted by Mukti, this week
Village Name
Gram Panchayat
Block
Number of Patients
Kusumtala
Mousuni
Namkhana
82
Hriday Market
Sri Sri Ramkrishna
Kakdwip
82
Amratala
Pratapaditya Nagar
Kakdwip
142
Kayal Para
Gobinda Khati
Hingalganj
70
Madhyam Para
Nalua
Mathurapur I
106
Krishnachandrapur

Pashimpara

Nalua
Mathurapur I
124
Datterchak, Kansarisriti Sangha
Nalua
Mathurapur I
126
Katandighi
Krishnachandrapur
Mathurapur I
132
Subhasnagar
Krishnachandrapur
Mathurapur I
106
Basudebpur
Mathurapur
Mathurapur I
115
Damkal Halder Para
Mathurapur II
131
Mahamaya
Raidighi
Mathurapur II
74
Gilarchat

( Bhadrapara)

Gilarchat
Mathurapur II
118
13 Villages
9 GPs
5 Blocks
1408