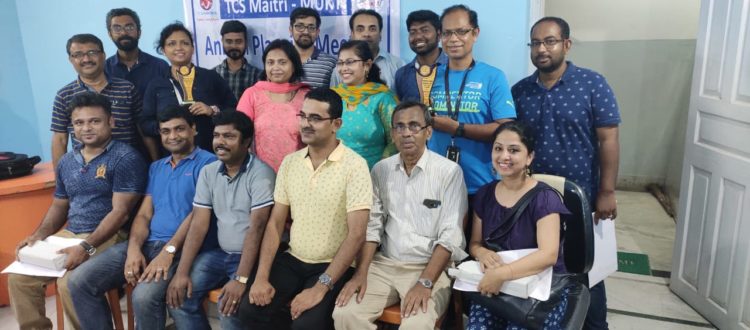 MUKTI, JATRAGACHI CENTRE TURNED 1 VOLUNTEER MEET – REVIEWING AND PLANNING
April 5th 2019, marks a very important date in the calendar of Mukti Jatragachi Centre. To commemorate this eventful day, the TCS volunteers had gathered at the Mukti Jatragachi Centre on 17th May 2019, Friday to discuss on the Tata Change Makers Project (TChM). The meeting had the presence eminent personalities, Mr. Sankar Halder, Mr. Timir Baran Bhattacharjee, Mr. Aniruddha Pal, Mr. Rabin Saha, Mrs. Babita Raut along with 17 active volunteers of TCS and few staffs of MUKTI.
The progress of the year 2018-19 was reviewed and planning for the year 2019-20 were the main agenda for the discussion.
Discussions were made on each of the ongoing projects.  The Computer Training Programme for the youth showed enrollment of 51 students, out of which 14 have been successfully placed in jobs. A major initiative had been taken on alignment of students with Don Bosco, Liluah for free training on electrical work and mobile repairing which had already placed 10 students in service sector.  Also successful running of the Special English classes for the local people had also brought a positive impact on the project.
48 women had received training on the soft toys under the Women Empowerment Programme. The project has already witnessed the emergence of 3 women entrepreneurs.
A 3-days Junk Jewelry Exhibition was organized at Eco Space by Link UP and sponsored by T2. TChM has successfully allied with NKDA for promotion of the handmade crafts through various outlet chains.
The past year also saw major initiatives by the volunteers like organizing free medical camp, tree plantation during visits by BT client and HR-TCS at the Mukti Jatragachi Centre, exhibition of organic produce by farmers and starting of the Social Business-MUKTI CLOUD KITCHEN to deliver freshly cooked organic food for the customers.
In the meeting, Mr. Sankar Halder, Founder-President of Mukti elaborated the learning of the past year.   Focus was made on the future plan as per the community needs. A proposal on digital learning with the objective of reaching out to the students in the remote villages was discussed and developing a well designed portal with the help of volunteers. More trainings will be introduced like candle making and jute bag making for the women under the Women Empowerment Programme. Special focus and strategy will be developed for marketing of the products.
The end of the programme was marked with extending appreciation certificates to 11 enthusiastic volunteers of TCS who had poured in their best efforts to make this project a success.