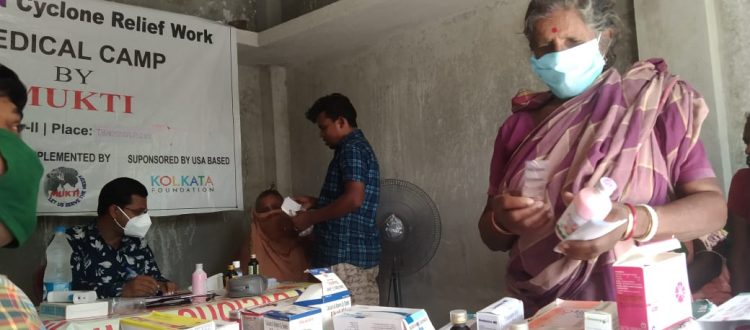 Mukti Health Check up Camps Dedicated for the Helpless and Sick People of Sunderban
Mukti conducted a medical camp this week also. In the previous week Mukti had treated 1903 patients around 24 villages.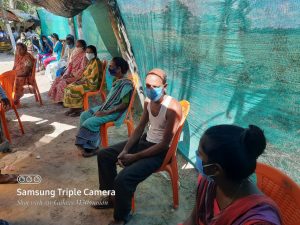 Following the pledge of serving the society Mukti volunteers and our respected supporters "Rural Health Care Foundation" and "Kolkata Foundation" dedicated several months to provide healthcare services to rural areas of Sunderban, free medical camps are conducted across various locations. These camps are being conducted specifically for Covid-19 affected marginalized people.
A brief report of the camps conducted by Mukti, this week
| | | | |
| --- | --- | --- | --- |
| Village Name | Gram Panchayat | Block | Number of Patients |
| Gobindorampur Doluipara | Rishi Bamkimchandra | Kakdwip | 69 |
| Gobindarampur Natun Bazar | Rishi Bamkimchandra | Kakdwip | 96 |
| Gangadharpur Uttarpara | Rishi Bamkimchandra | Kakdwip | 91 |
| gangadharpur magherpara | Rishi Bamkimchandra | Kakdwip | 78 |
| Bamanagar Chhayergheri | Rishi Bamkimchandra | Kakdwip | 99 |
| Shibpur | Swami Vivekananda | Kakdwip | 88 |
| Basanti Mandir Rifuji Colony | Swami Vivekananda | Kakdwip | 86 |
| Tilokchandrapur | Sri Sri Ramkrishna | Kakdwip | 91 |
| tilocchandrapur FP school | Sri Sri Ramkrishna | Kakdwip | 82 |
| Rajnagar | Budhakhali | Namkhana | 68 |
| Budhakhali | Budhakhali | Namkhana | 59 |
| Narayanpur Sitala Mandir | Narayanpur | Namkhana | 52 |
| Narayanpur 2 Gheri Sashibhusan Club | Narayanpur | Namkhana | 100 |
| Shikari Para | Ramchandra Khali | Basanti | 99 |
| Hokol Dugri Barpara | Ramchandra Khali | Basanti | 96 |
| Mogkhali | Ramchandra Khali | Basanti | 155 |
| Ramchandra Khali Jamader Para | Ramchandra Khali | Basanti | 120 |
| 4 No. Sonakhali | Uttar Mokamberiya | Basanti | 61 |
| Charane khali (Dongajora) | Uttar Mokamberiya | Basanti | 120 |
| Amra tala | Uttar Mokamberiya | Basanti | 78 |
| Uttar Budho khali | Itkhola | Canning | 117 |
| Madhukhali | Itkhola | Canning | 78 |
| Kachari Ghat | Itkhola | Canning | 112 |
| Redho khali | Itakhola | Canning | 78 |
| Digambari Manasadwip | Rudranagar | Sagar | 51 |
| Rudranagar | Rudranagar | Sagar | 66 |
| Kadha krisnapur | Rudranagar | Sagar | 56 |
| Dhablat | Purusattampur Uttar Pashchim Para | Sagar | 61 |
| Bamankhali Uttar Para | Muriganga II | Sagar | 68 |
| Chauddrasi | Kankandighi | Mathurapur II | 130 |
| Tarakmondaler Gheri | Kankandighi | Mathurapur II | 87 |
| Jogendrapur | Kankandighi | Mathurapur II | 82 |
| Purba Jata | Kankandighi | Mathurapur II | 90 |
| Doctorgheri | Kankandighi | Mathurapur II | 111 |
| Uttar Kankandighi | Kankandighi | Mathurapur II | 152 |
| Paschim Jata Gazir Gheri | Kankandihgi | Mathurapur II | 90 |
| Dakshin Baradanagar | Nagendrapur | Mathurapur II | 82 |
| Baradanagar (Janakalyan F P School) | Nagendrapur | Mathurapur II | 85 |
| Damkal Halderpara | Nagendrapur | Mathurapur II | 101 |
| Shankar Gheri | Raidighi | Mathurapur II | 82 |
| Kumrapara (Gayen  Gheri) | Raidighi | Mathurapur II | 94 |
| Uttar Bhatrapara | Raidighi | Mathurapur II | 105 |
| Uttar Boyargodi | Raidighi | Mathurapur II | 73 |
| North Bhadrapara | Raidighi | Mathurapur II | 90 |
| Mayra Mahal | Raidighi | Mathurapur II | 112 |
| 27 no lat | Raidighi | Mathurapur II | 115 |
| Mahabat Nagar | | Mathurapur II | 70 |
| Jaykrishnapur | Raidighi | Mathurapur II | 75 |
| Dakshin Kankandighi | Kankandighi | Mathurapur I | 76 |
| Sarberiya | Krishnachandrapur | Mathurapur I | 131 |
| Krishnachandrapur , Majhipara | Krishnachandrapur | Mathurapur I | 106 |
| Chhatrabhag | Krishnachandrapur | Mathurapur I | 116 |
| Purbaranaghat | Lalpur | Mathurapur I | 139 |
| Talukranaghat | Lalpur | Mathurapur I | 149 |
| Purba Ranaghata Laskarpara | Lalpur | Mathurapur I | 119 |
| Majhipara | Naula | Mathurapur I | 200 |
| Digambarpur | Digambarpur | Patharpratima | 135 |
| Herambagopalpur Bishalaxmi Pally | Herambogopalpur | Patharpratima | 95 |
| Kuemuri Priyahalder Para | Herambogopalpur | Patharpratima | 85 |
| Rakhalpur | Sridharnagar | Patharpratima | 103 |
| Keorakhali | Roypur | Patharpratima | 98 |
| Taranagar | Srinarayanpur Purnachandrapur | Patharpratima | 104 |
| Purnachandrapur | Srinarayanpur Purnachandrapur | Patharpratima | 102 |
| Gobindapur Abad | Brajaballavpur | Patharpratima | 107 |
| Shibnagar | Banashyamnagar | Patharpratima | 95 |
| Uttar Shibnagar | Banashyamnagar | Patharpratima | 83 |
| Dakshin Shibganj | Pathar Pratima | Pathar Pratima | 80 |
| Laxmijanardanpur | Laxmijanardanpur | Pathar Pratima | 119 |
| Malekan Ghumti | Gobinda Kati | Hingalganj | 70 |
| Purba Malekan Ghumti | Gobinda Kati | Hingalganj | 75 |
| Kanaikati | Gobinda Kati | Hingalganj | 55 |
| Uttor Kanaikati | Gobinda Kati | Hingalganj | 60 |
| Poschim Sridharkati | Gobinda Kati | Hingalganj | 70 |
| Kalitala | Kalitala | Hingalganj | 70 |
| 74 Villages | 30 GPs | 9 Blocks | 6943 |