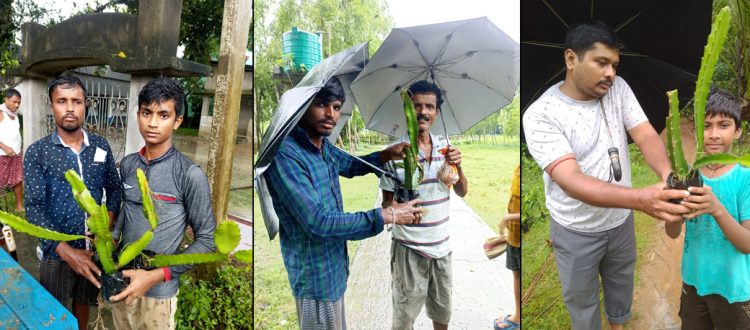 Mukti Distributes Dragon Fruit Plants to 200 Beneficiaries of Purba Medinipur
Mukti to encourage dragon fruit cultivation with the growing demand across West Bengal, to aware people of the benefits of the fruit, and to generate a livelihood opportunity from the crop has decided to distribute dragon fruit saplings in remote areas. As the initial step of this drive, Mukti has sent 1,000 dragon fruit seedlings to Purba Medinipur district of West Bengal. Under the endeavor of Mr. Ritish Shyamal, the distribution of dragon fruit saplings has started in 17 villages under Sahara Gram Panchayat.
100-150 pieces out of 1,000 seedlings have been collected in Egra nursery for future propagation of dragon fruit plants through cuttings. The rest of the plants are being distributed first among the students, teachers of Mukti Support Schools of Purba Medinipur and then to the villagers of 17 villages. Approximately 200 people get benefitted through the drive. Each of the beneficiaries has received 3-4 plants.
After 15 days of post plantation, Mukti will distribute organic fertilizer (100-15- grams for each beneficiary) to give to the dragon plant. MSS teachers Mr. Tapas Kumar Sau and Mr. Karthik Jana trained the beneficiaries to grow the pants in their residential place.