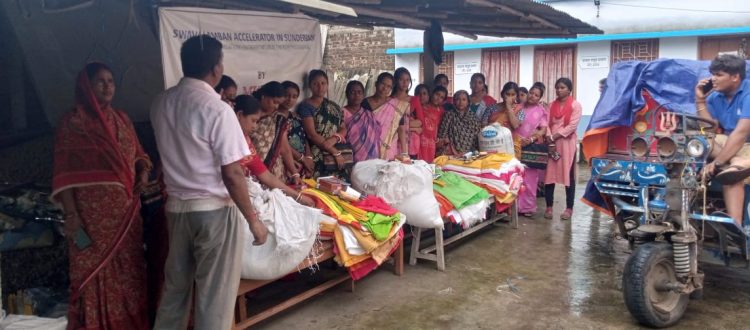 Mukti Distributed Support Kits to the MCDF Entrepreneurs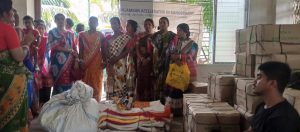 Mukti in association with " SIDBI" (Small Industrial Development Bank of India) under the "SWAS" (SWabalamban Accelerator in Sundarban" project has helped 8 MCDF (Mukti Community Development Fund) groups/entrepreneurs, to start up their businesses by distributing support kits for food processing, soft toys and thermocol crafts making.  Mukti has assisted the groups in terms of food processing and soft toy making whereas individual assistance is provided for thermocol crafting.
The support kits containing items have been listed below-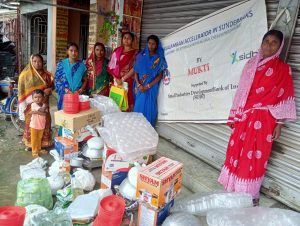 Soft toys – 27 meters far, needles, scales, measuring tapes, different types and colors of threads, scissors, thread cutter and cotton have been provided to the group members.
Sola – 300 piece sola, colors, 2 pieces of "knits" (very sharp knife to cut thermocol), 2 pieces of normal knives, jute thread and tire thread have been provided to individual members.
Food processing – The groups have been supported with Citric acid, Ascetic acid, Sodium Benjamin, Bakhtin, Sodium Bicarbonate, food flavor and color, weight machine, mixture grinder, sealing machine, PP plastic, 100-gram container of 120 plastic, 74 glass bottle, 8 pieces Chinese clay jar, 5-liter canning cattle, gas oven, bucket, spoon, boti, grates etc.
Branch Name

Support kits distributed
 
Soft Toys
Food Processing

Thermocol Craft

Raidighi II

32
10
X
Purnachandrapur
X
40

X

Laxminarayanpur

36
X
X
Debipur
29
X

X

Krishnachandrapur

35
X
X
Deulbari
X
30

X

Bhasa Gurguria

X
X
40
Maipith
50
X

X

8 branches

182
80

40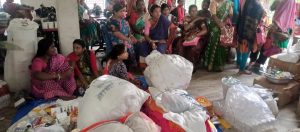 Through the distribution of these support kits, Mukti's endeavor is to tap these talented and resourceful women leading businesses so as to promote them and help cooperatives, private and public players in the market to identify & amplify their potential partners.