Mukti distributed Bougainvillea Plants For the Beautification of the Road Side Houses of Mukti Gram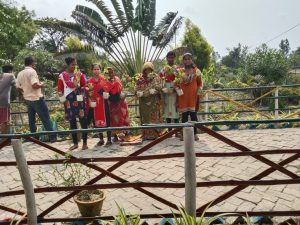 To create dynamic effect in a stretch of both sides of the entrance road of Mukti Gram, Mukti distributed 10,000 Bougainvillea plants (commonly known as paper flower) to the residents of Purba Sridharpur. There are almost 500 families living beside the1.9 Km. landscaping road.
These plants will be used as a formal hedge at the entrance gate of the houses. As it is an evergreen plant it will be green and flowery all through the year. The plants are easily maintainable as they are pest and disease free and can withstand all climatic conditions.
After completing the program, Mukti will distribute more Bougainvillea plants to rest of the villagers.