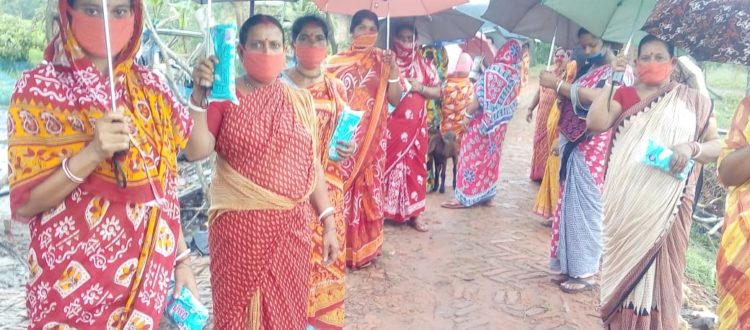 Mukti Distribute Sanitary Products for Women Hygiene
After AMPHAN destructed Sunderban, there is a need to advocate for better menstrual health for every woman especially of marginalized sections. Following the belief that women have the right to choose for their health, while they lost the purchase power to buy sanitary napkins, restricted mobility and disrupted supply, Mukti in association with "Rangeen Khidki Foundation" ( works in the space of gender, sexual and reproductive health rights) started to provide information and access to good quality and affordable products like sanitary napkins and essentials.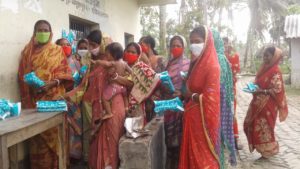 Mukti organized a sanitary napkin distribution program at Nagendrapur Gram Panchayat under Mathurapur Block II. Mukti distributed 150,100,190,40,20,140 and 100 pieces of napkins at Adibasipara, Baradanagar, Santrapara, Domkal, Purbasridharpur, Prodhanpara and Keoratala.
At Kankandighi Gram Panchayat under Mathurapur Block II Mukti distributed 150 and 100 sanitary Napkins at Purkait para and Swasti Nager.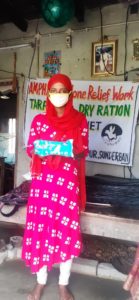 Under Raidighi Block – 200,120,150,100,150 and 130 pieces of napkins were distributed at Sankar Gheri, Kachari More, Paschim Para, Halder Para, Srifaltala Daspara and Moyarar Mahal.
Under Radhakantapur Gram Panchayat Mukti distributed 250, 262, 250 napkins at Katlapara, Naluya , Nolpukur and at Herembogopalpur Mukti distributed 500.
At Jaynagar under Mathurapur Block I 250 pieces were distributed.
250 napkines were distributed at Bhanimari village under Bele Durganagar Gram Panchayat and Jaynagar Block II.