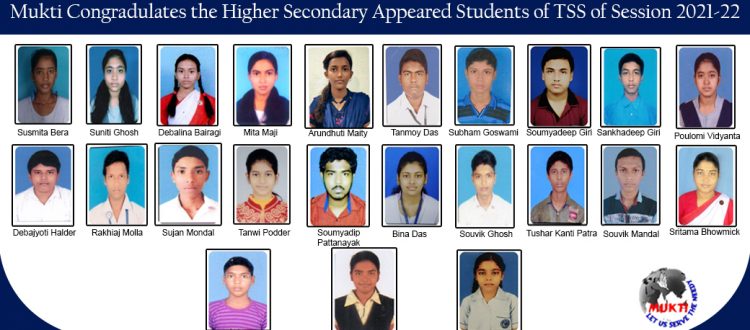 Mukti Declares the HS Result of the TSS Students of the Session 2021-22
Mukti is happy to announce the higher secondary result of the TSS (Talented Student Sponsorship) students of the session 2021-22. This year 23 students have appeared for the examination and all of them have proud Mukti, their sponsors, parents, teachers, relatives and friends with their magnificent results. Mukti wishes all the best for their future career and a big congratulation to all of them. Mukti expresses sincere gratitude to all the sponsors for providing support to all the meritorious students.
Mukti especially felicitates Soumyadeep Giri for achieving the 10th rank in the West Bengal Higher Secondary Board examination in West Bengal. His hard work and determination are recognized and admired.
The West Bengal Council of Higher Secondary Education (WBCHSE) published the Higher Secondary "Uccha Madhyamik" (Class 12th) Results on 10th June 2022. This year west Bengal board has conducted the HS examination offline from 26 February to 13 March 2022 for sessions 2021-22.
Glimpses of the Higher Secondary Examination Result
| | | | | |
| --- | --- | --- | --- | --- |
| Name | School | Marks | Percentage | Sponsor |
| Soumyadeep Giri | Namkhana Narayan Vidyamandir | 489 | 97.8% | Ms. Jayati Roy (MUKTI Australia) |
| Sritama Bhowmick | Dakshin Kashinagar High School (H.S) | 484 | 96.8% | Mr. Abhijit Parkhe |
| Soumyadip Pattanayak | Sutahata Janakalyan Siksha Niketan | 483 | 96.6% | Srijan Realty Pvt. Ltd. |
| Suniti Ghosh | Guptipara High School (H.S) | 483 | 96.6% | Dr. Arup Dutta |
| Mita Maji | Barjora High School (H.S) | 481 | 96.2% | Mr. Abhijoy Ghoshroy and  Ms. Romi Banerjee |
| Debajyoti Halder | Raidighi Srifaltala C.K High School | 478 | 95.6% | Anjan Gupta  (MUKTI Australia) |
| Tanmoy Das | Kakdwip Virendra Vidyaniketean | 476 | 95.2% | Mrs. Shiboli  Mukhopadhyaya |
| Rakhiaj Molla | Krishnachandrapur High School (H.S) | 476 | 95.2% | Mr. Avirup Banerjee |
| Sujan Mondal | Krishnachandrapur High School (H.S) | 470 | 94% | MUKTI Australia |
| Tanu Jaiswal | Seth Soorajmull Jalan Balika Vidyalaya | 466 | 93.2% | Mr. Nitin V. Kotak |
| Sumana Hira | Thakurnagar High School (H.S) | 463 | 92.6% | Dr. Priyanka Maiti |
| Souvik Mandal | Beliatore High School (H.S) | 460 | 92% | Mr. Abhijit Parkhe |
| Debalina Bairagi | Nimpith Ashram Sarada Vidyamandir | 456 | 91.2% | Dr. Arup Dutta |
| Arnob Saha | Nimpith Ramkrishna Vidyabhavan | 453 | 90.6% | Mrs. Shampa Mukherjee |
| Arundhuti Maity | Narendrapur Milan Vidyapith | 450 | 90% | Mr. Niladri Nath Bagchi |
| Poulomi Vidyanta | Guptipara High School (H.S) | 450 | 90% | Ms. Meredith Brich Pinkerton |
| Bina Das | Rajnagar Srinathgram Bani Vidyapith | 446 | 89.2% | Mr. Niladri Nath Bagchi |
| Sankhadeep Giri | Haldia Govt. Sponsored Vivekananda | 441 | 88.2% | Indrani Mukherjee (MUKTI Australia) |
| Tushar Kanti Patra | Narendrapur Milan Vidyapith | 439 | 87.8% | Aiducate Now |
| Susmita Bera | Krishnachandrapur High School (H.S) | 434 | 87.6% | Mr. Padmanava Sen |
| Souvik Ghosh | Guptipara High School (H.S) | 432 | 86.4% | Aiducate Now |
| Tanwi Podder | Kamala Girls' School | 427 | 85.4% | Sangeeta Bhattacharya (MUKTI Australia) |
| Subham Goswami | Kenduadihi High School (H.S) | 405 | 81% | Mr. Asim Das |