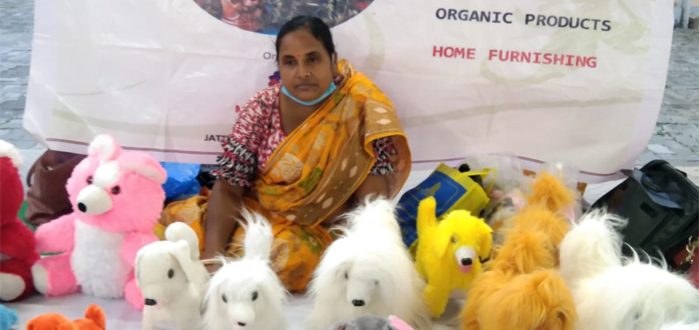 Mukti Craft Stall at Biswa Bangla Haat
Mukti Craft has set up a stall at "Bishwa Bangla Haat", Nawabpur, Rajarhat, New Town, near Eco Park, Kolkata from 12th November 2021, Friday with some wonderful collection of handicrafts made by the women of Mukti Jatragachi center. For the next 15 days, Mukti Craft's stall will be open to visitors to the Haat. Every day the Haat timing is from 1 pm to 7 pm.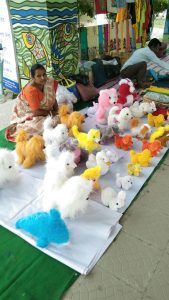 In this stall, soft toys (Teddy bears, Dolphin, Dog, Squirrel, Rabbit, Swan, Elephant etc) made by the trainees of Mukti Jatragachi Center are being displayed and sold at a very reasonable price. These are easily washable baby-friendly products. While creating no harsh chemicals or dyes are used that can harm the little ones.
There are always 2 attendees in the stall to help the visitors to try and buy the items.
To encourage the innovations of the new entrepreneurs – the trainees and aiming to improve their lives a little, Mukti Craft participated in the Haat. Mukti intends that the amount Mukti Craft will earn by selling the products will go back to these women as an appreciation of the wonderful things they create and the joy that they give us.
Interested buyers can purchase items online from 1st December 2021 on Amazon and Flipcart through the Mukti Craft website. The links will be shared soon.
Your support will motivate our artists and will help to change the lives of thousands more.