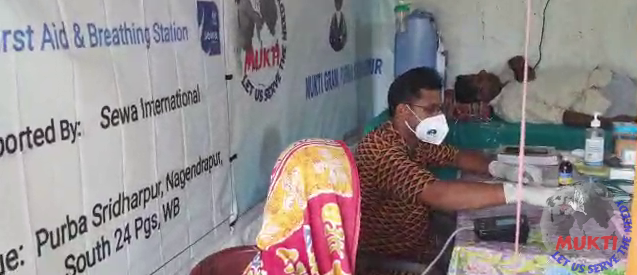 Mukti Covid Care Unit – Sewa International Helping Covid Patients to Breathe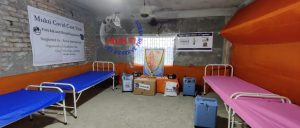 While India was still fighting the first wave of Covid-19 suddenly the unregulated outbreak of the second wave of the pandemic made India to breathe hard. 300,000 new cases in a single day were recorded as the highest tally in the world since the pandemic began. More than 2000 deaths were reported every day. Further, the numbers are spreading faster to small cities and interiors of the villages.
Due to lack of critical support Covid patients were referred from one hospital to another. Relatives of the patients were pleading for medical help. People lost their loved ones. There was a critical and immediate need for oxygen in hospitals and to directly support patients.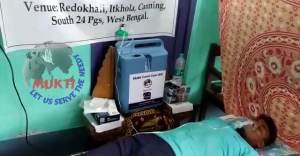 At this time of critical need Mukti along with "Sewa International" joined hands together to provide immediate oxygen and medical support to Covid affected patients in the interior part of the Sundarbans region. With the support from the Sewa International, Mukti launched 8 Covid Care Units in 7 Blocks of 24 Parganas and saved 97 patients having difficulty in breathing. Total 12 Oxygen Concentrators are serving the patients in all these Units. Among these 12 oxygen concentrators 8 were provided by Sewa International. Mukti with oxygen concentrator is also providing free medicine support to the Covid patients. The Covid care unit was set up in those areas which are devoid of any kind of medical facility, there were no hospitals in the locality, villagers had to travel around 35-40km for a basic checkup. With Support received from Sewa International, Mukti managed to procure medicines, masks and sanitizers for the covid care unit. One doctor along with one compounder is always present at the center to take care of the patients.
Mukti is grateful to "Sewa International" as their support is saving precious lives and thus improving the situation. We together believe that none of the Covid patients should suffer in the villages due to unavailability of lack of oxygen support in their area.
| | | | | | |
| --- | --- | --- | --- | --- | --- |
| Area | Block | District | Number of Oxygen Concentrators | Number of Patients Supported with Oxygen Concentrators | Medicine Kits Distributed to the Units |
| Redokhali, Itkhola | Canning-I | South 24 Pgs | 1 | 24 | 100 |
| Bubhneshwari | Kultali | South 24 Pgs | 1 | 44 | 100 |
| Nagendrapur | Purba Sridharpur | South 24 Pgs | 2 | 2 | 100 |
| Joynagar | Joynagar | South 24 Pgs | 2 | 6 | 100 |
| Purnachandrapur | Patharpratima | South 24 Pgs | 1 | 5 | 100 |
| Ramganga | Patharpratima | South 24 Pgs | 1 | 4 | 100 |
| Chowbaga, Anandpur | Kasba | South 24 Pgs | 3 | 11 | 100 |
| Sonakhali | Basanti | South 24 Pgs | 1 | 1 | 100 |
| 8 Areas | 7 Blocks |  1 | 12 | 97 | 800 |