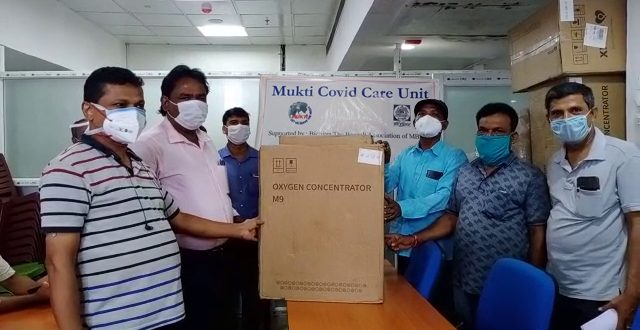 Mukti Conferment Oxygen Concentrators to the Chief of the Gram Panchayats
The second wave of Covid-19 has not even ebbed that the leading experts of the nation sounded alarm bells for a possible third wave and its possible disproportionate impact on vulnerable groups like children. This could put the rural healthcare system under pressure again. Hence, before the third wave, we need to be prepared for minimizing the impact of the pandemic on innocent lives.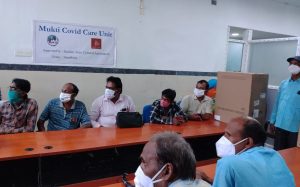 In this case, Mukti engaged field workers to identify the most affected areas. After the survey Mukti came to know that Namkhana and Kakdwip are the two blocks where the epidemic is advancing at an unstoppable pace. Mukti decided to send oxygen concentrators to the healthcare centers in these two blocks before the third wave arrives.
Mr. Jagannath Jana, team member of Mukti and the convener organized a meeting on 08th September 2021, Wednesday, 2 pm at Kakdwip super-specialist hospital community hall where he deployed the OCs to the 5 Gram Panchayat Chiefs (Pradhans) of Patharpratima and Kakdwip block under the supervision of Mr. Avirup Mondal, the ACMOH (Assistance Chief Medical Officer of Health) of Kakdwip sub-divisional hospital and Mr. Krishnendu Roy, the Super of Kakdwip super-specialist hospital.
The meeting was attended by 31 people-
| | |
| --- | --- |
| Name | Designation |
| Mr. Basudeb Das | Chief of Swami Vivekananda GP |
| Mr. Gouranga Purkait | Chief of Surjanagar GP |
| Mr. Biswanath Bera | Chief of Srinagar GP |
| Mr. Kamal Bhunia | Deputy- chief of Surjanagar GP |
| Mr. Bidyut Gharai | Assistant of Durgachoti GP |
| Mr. Haphiuddin Molla | Superior of Sri Sri Ramkrishana GP |
| Mr.Krishnapada Satuya | Councilor of Kakdwip blood bank sub-divisional hospital |
| Sk. Ahamudulla | Social worker |
| Mr. Subrata Pranigrahi | Social worker |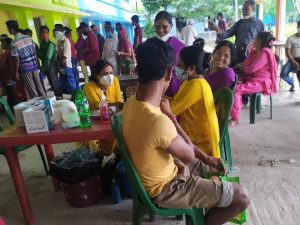 Along with them 12 ANM (Auxiliary nurse midwife) and 7 Asha workers were present at the meeting.
Mukti expresses sincere thanks to "Bichitra", "Garden State Cultural Association", "Piramal" and Pratham organization for providing concentrators for the poor and needy patients who have become the victims of the Covid-19 pandemic.
| | | |
| --- | --- | --- |
| Donors Name | Places of deployment | No of concentrators |
| Bichitra | Swami Vivekananda GP | 2 |
| GSCA | Surjanagar GP | 2 |
| Piramal& Pratham | Sri Sri Ramkrishna, Srinagar and Durbachoti GP | 6 |
| 3 | 5 GPs | 10 |
These OCs will be provided to the patients who are in home isolation and with the help of Panchayat members, we could able to reach out to maximum needy beneficiaries.
Mr. Jagannath Jana is maintaining the data and record for the deployment of the OCs.