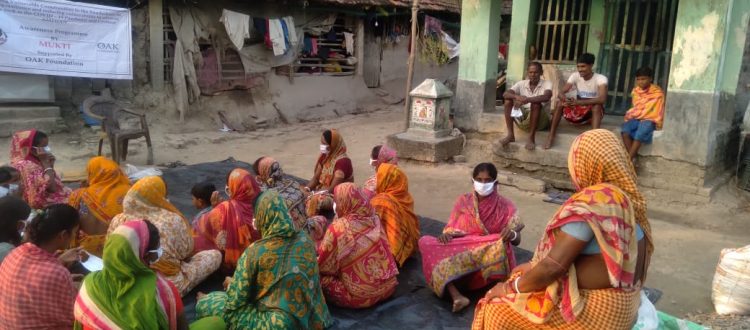 Mukti Conducted Awareness Programs for the Well Being of the Villagers at Sunderban
Mukti in association with "Oak Foundation" organized several awareness programs at Sunderban. In the second phase it was held at Kuemuri Ganga Ghat Pally Bhandari Para and Purba Surendra Nagar on 19th November, 20. The supervisors of Mukti, Mrs. Srabanti Naskar and Mrs. Bhaswati Manna along with Mr. Apurba Karan from "OAK Foundation" conducted the whole program.
Awareness program on Covid-19 at Kuemuri: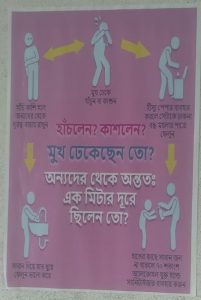 Knowledge gap exists on various fronts over Covid-19 in rural Sunderban. To make the rural communities aware of the effects of Covid-19, Mukti field team members shifted their priorities from their normal work to making efforts to spread awareness and education on taking precautions against the spread of COVID-19. The program was held at Kuemuri Ganga Ghat Pally Bhandari Para. They shared verified information and explained preventative measures like proper hand-washing, sanitization techniques, maintaining social distancing and if they feel sick then how to seek treatment for the residents. Posters regarding precautions that need to be followed were shown to them. They were also explained the necessity of wearing mask. Cloth masks were distributed as well.
25 participants joined the awareness program.
Awareness Program on Health and Child Marriage:
Another program was held at PurbaSurendranagar under Herembogopalpur Gram Panchayat and Patharpratima Block.
The meeting was stressed on the need to organize a mass scale awareness programme so that the people especially in the rural areas are enlightened about the demerits of child marriages.  As their bodies are not yet fully developed, these young adolescents are at much greater risk of suffering life threatening or debilitating conditions as a result of childbirth like obstetric fistula and hemorrhaging, or even death. At their young age they need education and not marriage. In short, pulling girls out of school and forcing them into early marriage ensures that poverty will be handed down from mother to daughter, from family to family, for generations to come. It was emphasized that anyone who performs child marriages also needs to be cautioned as child marriage is against the law of the land.
Mukti took the initiative to introduce rural residents of Sunderban to health awareness programme. Mukti aims to educate the villagers and make them aware of how to take proper care of their health. This programme was focused towards addressing issues of personal health care, vaccination, hygiene, and illness prevention. People were encouraged to incorporate healthy habits and take various preventive measures. In addition, people were also spurred to boost up their daily nutrition intake. They were also given information on how to integrate and maintain hygiene in their lifestyle. Women were advised to use sanitary napkins instead of using cloth during their menstrual cycle.
35 participants attended the program.