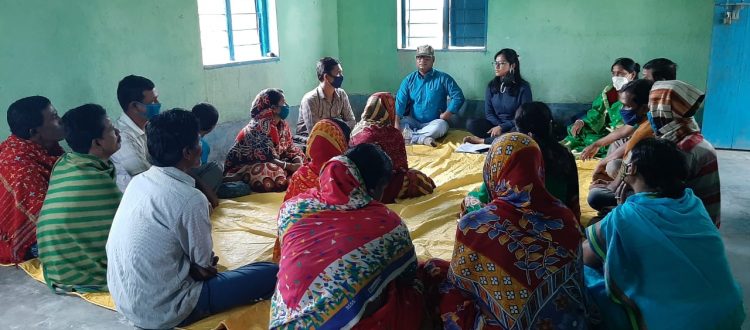 Mukti Conducted ACV with Heterogeneous Vulnerable Groups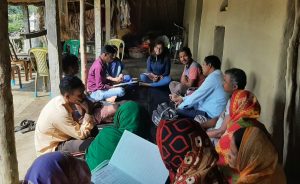 Positive contact and interaction among communities can stamp out ethnic fears, misconceptions, and stereotypes. The project ACV (Amplifying Community Voices) aims to reduce future conflict and promote ethnic reconciliation by creating safe spaces where people from different communities, ethnic minorities, and commonly excluded groups can come together to build resilient relationships and engage in conversations on community-based key issues that drive conflict.
Mukti in association with "OAK Foundation" organizes 6 such community meetings from 15th – 18th November 2021 at Herembogopalpur GP under Patharpatima block by bringing the heterogeneous vulnerable groups (adolescents, women, farmers, fisher fellows, daily labor, teachers etc) across the community together to learn about issues and share perspectives whose lives are most affected by the policies, systems and structures in the communities they serve. Community leaders are selected in the meeting.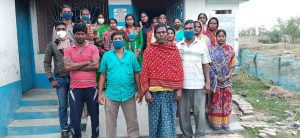 Mukti is honored for having "OAK Foundation" as a supportive partner and making a difference. Their continued support of the mission is deeply gratifying for Mukti.
The meetings have been conducted by 3 field mobilizers- Mr. Alok Jana, Mr. Arup Karan, Ms. Panchami Shit, 1 supervisor- Mr. Pinaki Naiya, OAK project coordinator- Ms. Nandita Jayraman and Panchayat members.
| | | | | |
| --- | --- | --- | --- | --- |
| Area Name | Gram Panchayat | Number of Meetings Conducted | Number of Participants | Leaders Selected |
| Kuyemuri | Herembogopalpur | 2 | 15 | 10 |
| Purba Surendranagar | Herembogopalpur | 1 | 12 | 3 |
| Dakshin Kashinagar | Herembogopalpur | 2 | 16 | 10 |
| Herembogopalpur | Herembogopalpur | 1 | 14 | 5 |
| 4Areas | 1 GP | 6 |  57 |  28 |
Mukti Conducted Community Meetings with Heterogeneous Vulnerable Groups Under ACV Project
Issues discussed in the meeting:
Issues identified by farmers
Presence of saline water in the land, especially after every catastrophe.
Lack of proper knowledge about the soil and application of pesticides or other manure.
Training needs on bio farming
Unaware of Government schemes and support
Permanent solutions for river embankment
Women headed family or women members of the family
Specific training according to the market needs
Market linkages
Awareness of gender discrimination (especially on child marriage, school dropouts, domestic violence etc)
Health relate awareness (health during pregnancy/ menstrual health etc)
Mukti Conducted Community Meetings with Heterogeneous Vulnerable Groups Under ACV
Issues identified by Fisher fellows
Market linkages
Unaware of Government schemes or training
Support for purchasing fishing equipment
Migrant workers
Request received to create job opportunities in local areas
Knowledge regarding schemes, vocational training
Market analysis
Mukti Conducted Community Meetings with Heterogeneous Vulnerable Groups Under ACV
ICDS (Integrated Child Development Services) and Asha workers
Awareness build-up on early marriage and early pregnancy
Awareness of infant and children's health
Awareness of adolescents social and health issues
Teachers
Proper education support for the local students with minimal fees
Book bank support