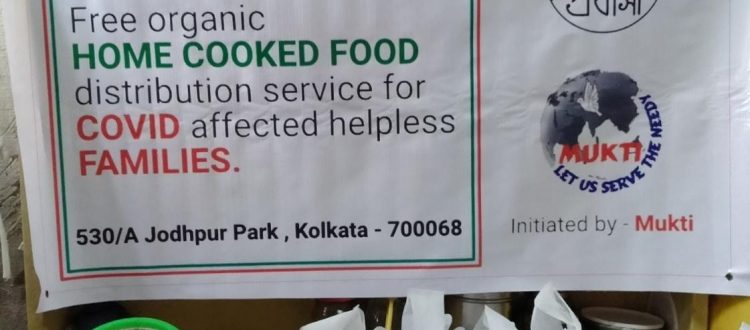 Mukti Cloud Kitchen Feeding Isolated Covid Patients
The second wave of the Corona pandemic is wreaking havoc on the nation; Kolkata is also bearing the brunt of it.  Every day, we are witnessing a 'new high' in the number of corona virus cases. Amid the trying times, Mukti has come forward to offer help in whatever ways it is possible.
For all the infected quarantined patients, a hygienic, wholesome diet is very important. Therefore, Mukti Cloud Kitchen with "Bay Area Prabasi" had started offering free meal services for COVID patients of Kolkata and adjacent areas and has served 959 Covid patients' families. This service especially comes to the aid of the patients who are isolating at home or don't have a caregiver and access to fresh, daily meals.
Mukti Cloud kitchen is delivering mildly-spiced, nutritious, home-style fare across the city. Both vegetarian and non-vegetarian options are available and a typical meal comprises dal, rotis, rice, vegetable of the day. You can choose to include fish or egg for non-vegetarian meals. The menu does change, with the veggie of the day varying daily. You need to place an order ideally 6 hours prior by ringing 8585 807 632 and 9696 022 022.
After the order is placed Mukti volunteers will deliver the food at your doorstep by maintaining all the Covid safety protocols.
The service has acted as a Godsend to thousand of Covid patients of Kolkata. They thanked Mukti to feed them during their hard days of home quarantine.