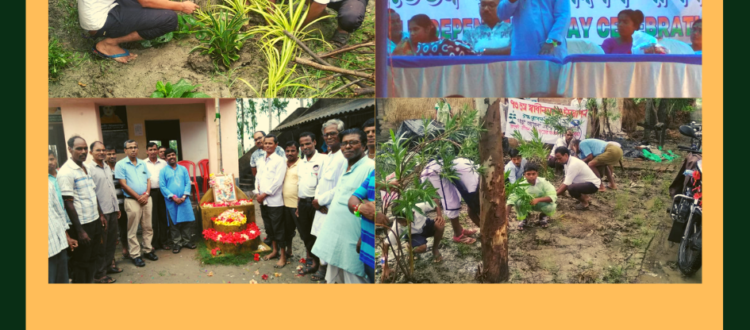 MUKTI celebrates 73rd Independence Day at Purbasridharpur Paschimpara F.P. School : How August 15 Celebrations Unfolded at Sundarban
15th August is observed with great solidarity and is celebrated every year in all parts of the country with fervent zeal and patriotism. To commemorate the auspicious day with this thought, Mukti celebrated this year's Independence Day at Purbasridharpur Paschimpara F.P. School with great zeal on last Thursday. Members of Mukti family in association with school students of Purbasridharpur Paschimpara F.P. School celebrated Independence day with great enthusiasm and organised two programs – Tree Plantation Drive and Discussion on Water Crisis in Sundarban and its Remediation.
The day commenced at 6:30 a.m. with plantation drive program "Briksha Rapan Karma Suchi".  70 students and local Mukti staffs participated whole heartedly and planted different varieties of plants around the school premises and in 40 nearby local houses. 1000 plant saplings were planted to drive tree revolution for a greener future. Respected president of Mukti Mr. Sankar Halder, unfurled the flag at 11:00 a.m. along with honourable treasurer Mr. Timir Baran Bhattacharya, Mr. Dipan Banerjee, Mr. Bijoy Krishna Halder, Mr. Chitta Ranjan Halder, headmistress of Purbasridharpur Paschimpara F.P. school, school students and local village residents. It was followed by the 52 second chant of our National Anthem by everyone present , in unison to celebrate independence, celebrate freedom. All eminent personalities present in the event expressed their happiness over the students participating in the celebrations with fervour. The present generation should know and imbibe the value of freedom which was secured after relentless struggle and sacrifices of many great leaders and freedom fighters echoed in everyone's speech.
The afternoon witnessed extensive discussion on extreme water shortage in major areas, particularly Sundarban. The discussion comprised of the reasons of water crisis problems, its effect and permanent solutions that will help stop it. Why many active environmentalists failed to garner public attention until the taps dried in big cities were also discussed. Everyone participated in this discussion including respected president Mr. Sankar Halder, Mr. Timir Baran Bhattacharya, Mr. Chandan Maity (Headmaster Krishnachnadrapur High School) , Mr. Alok Jaldata (J.P. member), volunteers, school students, active committee members and cited the reasons of permanent water crisis problems and its solutions. Dynamic awareness initiatives and solutions were proposed to save water in Sundarban for better future. Both the programmes were beautifully coordinated. The day concluded on a high crescendo with sweets and snacks distribution.