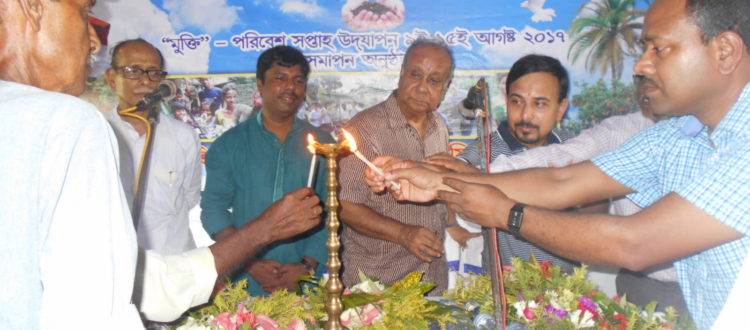 MUKTI Celebrated 71st Independence Day with a week long Plantation Programme
A major plantation activity and environmental awareness programme was organized by MUKTI to celebrate India's 71st Independence Day. MUKTI arranged this one week tree plantation drive as part of the project Save the Sunderban (Go-Green) from 9th August at different places of Sunderban. The programme was completed on 15th August. The entire event witnessed a wholehearted response from the localites and students. As the students and local citizens have witnessed many environmental awareness initiatives by now, they understand the importance of tree plantations and the importance of protecting the environment.
This 7-day long event was attended and participated by many local school students, MUKTI Coaching Centre students, teachers, MCDF members and MUKTI employees.  MUKTI selected various centers where the plantation programmes were undertaken by selected lead members. Those lead members arranged everything for conducting the program successfully and they invited local guests and political leaders to attend the events.
Following are the details of the venues, plants distributed and numbers of trees, lead members name along with chief guests' name:
Programme Place
Total Participants
Plants Distributed
Lead Member
Guests
Raidighi MCDF Office
96
a) Rangan: 40

b) Garden Croton: 50

c) Chinese Tagar:  70

Total: 160

Anima Mondal (MCDF President Raidighi Branch)
Political Leaders (Haradhan Halder & Biswajit Sarkar)
Uttorkankandighi Coaching Centre
262
a) Rangan: 80

b) Chinese Tagar: 140

c) Karabi: 30

d) Lantena: 50

Total: 300

Pintu Halder

(Teacher of the Uttarkankandighi Coaching Centre)

Political Leader (Koruna Halder)
Sonatikari MCDF Office
131
a) Rangan: 50

b) Garden Croton: 70

c) Karabi: 25

d) Gandharaj: 5

Total: 150

Chandan Mollik  (MCDF Manager Sonatikari Branch)
Political Leaders (Mostafa Molla, Anima Kandari & Soumita Halder) and local Head Master Arjun Sarder
Kultali MCDF Office
100
a) Rangan: 100

b) Garden Croton: 140

c) Karabi: 30

d) Gandharaj: 30

e) Coconut: 605

Total: Flower Plants 300 & Coconut Plants 605

Uttam Khatua (MCDF Best Friend Kultali Branch)
Madhyapurba Gurguriya H.S. School
148
a) Total Flower plants: 300

b) Total coconut plants: 605

2 Political Leaders and 2 Teachers (Proshanta Ghosh & Amalendu Pramanik)
The celebration of 15th August plantation programme commenced with hoisting of our national flag by the chief guest of the event, Mr. Dhurjati Naskar, the eminent Bengali writer. MUKTI Secretary Mr. Asis Halder, Vice President Mr. Satyajit Roy, Madhusudan Bairagi and Niladri Bagchi alsoattended the programme. The members of MUKTI, along with the event attendees, pledged together to undertake present and future plantation drives to combat the adverse effects of global warming and climate changes in the local area.
MUKTI selected five core areas of environment – Jal (water), Jungle (Forest), Jantu (Animal), Jomi (Land) and Jeevan (our life) as theme of the discussion on 15th August. All the groups have discussed the same topics in the environment week and the same was discussed on the Independence Day programme. Each invited person and MUKTI employees selected a single topic on environmental issue and delivered their speech conveying social awareness. Nirapada babu, a senior teacher in Sunderban area and a respected person in the village, started with "Jal", Mr. Satyajit Ray talked about "Jungle", Mr. Niladri Bagchi talked about "Jantu", Mr. Arabinda Mandal talked about "Jomi" and Mr. Madhusudan Bairagi talked about "Jeevan".
Chief guest Mr. Naskar in his opening remarks stated, that "Fale Fule Mukti is a great opportunity for us to show our concern and communal awareness to help reduce environmental pollution, and provide a green and healthy place to inhabit for the people of South 24 Parganas." He also mentioned the importance of plantation of mangrove trees such as Goran, and Genoa. He encouraged the creation of groves of Palm, Coconut and Betel Nut trees, which can protect the coastal area from devastating cyclones.
President Mr. Halder said, "Human being is considered as the king of the animal kingdom by their own wisdom, power and sensitivity. So, it's their responsibility to protect mother nature and utilize natural resources reasonably." MUKTI president further urged that organic farming is a savior of land. Mr. Arbinda Mandal, MUKTI's experienced farmer and employee, urged the importance of land protection from dangerous chemical fertilizers. In a brief speech, he portrayed his vast knowledge about land and agriculture and requested all to implement organic farming to save our land from ultimate disaster.
The keen interest and the positive response of the local villagers, school students, and farmers in the plantation programme was simply amazing. To celebrate the occasion, MUKTI arranged a grand feast for all participants. We concluded the ceremony with an oath to plant more trees to save our Sunderban delta, and our planet from global warming.