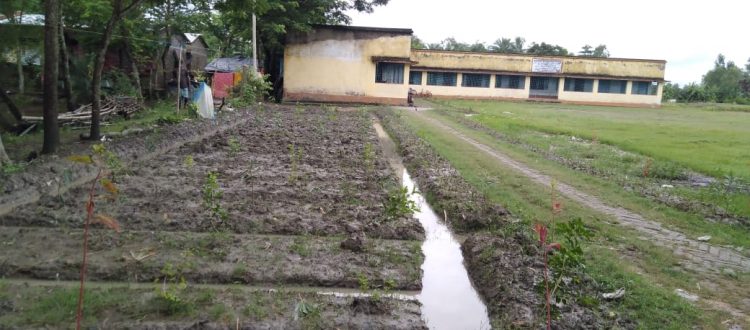 Mukti Beautified the IIMC Panchanna Sikkha Niketan School Campus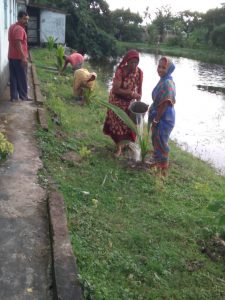 School gardens are a wonderful way to use the schoolyard as a classroom, reconnect students with the natural world and the true source of their food, and teach them valuable gardening and agriculture concepts and skills that integrate with several subjects, such as math, science, art, health, physical education and social studies, as well as several educational goals, including personal and social responsibility.
To make these objectives a success Mukti has already beautified 4 schools (Purba Sridharpur Purba Para F.C School, Purba Sridharpur Paschim Para F.C School, Nagendrapur Hemantakumari HS School and Samanta Para Junior High School) campuses under Nagendrapur GP. Now Mukti has beautified IIMC (Indian Institute of Mother and Child) Panchanan Sikkha Niketan Primary School campus. Seeing the model gardens that Mukti had created in the Mukti Gram, Purba Sridharpur under Nagendrapur GP, the schools were encouraged and requested Mukti to decorate their gardens in the same way.
2,000 pieces of flower and Patabahar saplings and 10 pieces of coconut saplings were planted in the school campus.
| | |
| --- | --- |
| Saplings Name | Number |
| Salvia | 1390 |
| Jungle Geranium (Rangan) | 400 |
| Duranda | 100 |
| Hibiscus (Jaba) | 50 |
| Oleander (Karabi) | 40 |
| Thuja Jhaw | 10 |
| Bogenvelia | 10 |
| | 2000 |
22 workers were engaged in creating the garden and they worked under "Food for Work". The children were very happy to have a beautiful playground. Their parents, teachers and other school staffs thanked Mukti for creating a beautifying their school.
Gallery link: https://muktiweb.org/gallery/album/mukti-is-decorating-the-premises-of-iimc-school-with-flower-and-fruit-saplings-at-nagendrapur-gp