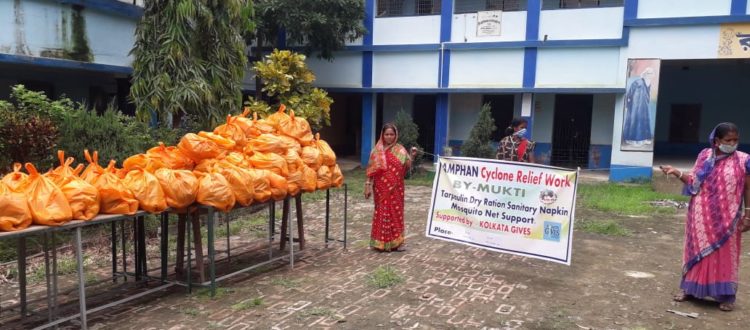 Mukti assists MCDF Women SHG at G-Plot
The Sundarbans, the world's largest mangrove forest and a UNESCO Heritage Site, is believed to be the worst struck area by the cyclone Amphan. Winds blowing at over 150kmph slammed into the Sundarbans by the time the cyclone had made landfall, causing widespread damage to embankments around the area and by smashing thousand of houses. Livelihoods have been uprooted, as paddy fields and fishing vessels were devastated by the storm.
The cyclone comes at a time when the state has seen a spike in COVID-19 cases. The nationwide lockdown had already crippled the villagers of Sundarban, even before Cyclone Amphan had hit the vulnerable area. The poor economy has forced many to migrate to the cities in recent years. But now with the Coronavirus pandemic shutting down businesses and limiting mobility, villagers don't have the option of moving to other places in search of work.
Several villagers were already staring at unemployment amid the COVID-19 crisis, now they have experienced the worse with their lands and homes destroyed.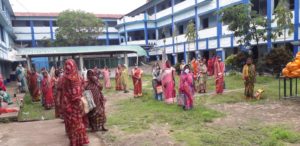 "Mukti Community Development Fund" (MCDF) was formed to help the women of Self Help Group (SHG) by providing essential entrepreneurship training and micro loans for business development and to make them self- reliant. The dual attack of Amphan and Covid-19 has perished their means of earning as well as their hope and lead them to poverty.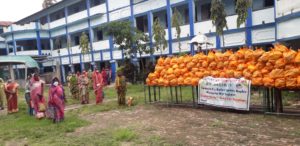 Mukti in association with "Asha for Education" and "Kolkata Gives Foundation" stand beside by 320 women of SHG. Each of them received Rice – 4 Kg, Dal – 1 Kg, Potato – 3 Kg, Oil – 500 Gram, Mosquito Net – 1 piece and Biscuit – 1 packet. This aid distribution program was held on 19.06.20 at G-Plot under Patharprotima Block.
Rebuilding efforts will take many years. Mukti is working with great potentiality to recover Sundarban from the impact of Amphan.