The West Bengal Board of Secondary Education (WBBSE) Madhyamik Results 2023 were officially announced on May 19, 2023, at 12 noon, marking a significant milestone for the 312 students from 35 MSS centers, who appeared for the examination. 6 students achieved star marks, 17 secured first division, 53 obtained second division, and 236 students achieved third division. Mukti extends heartfelt congratulations to all the students and wishes them a future filled with success and opportunities.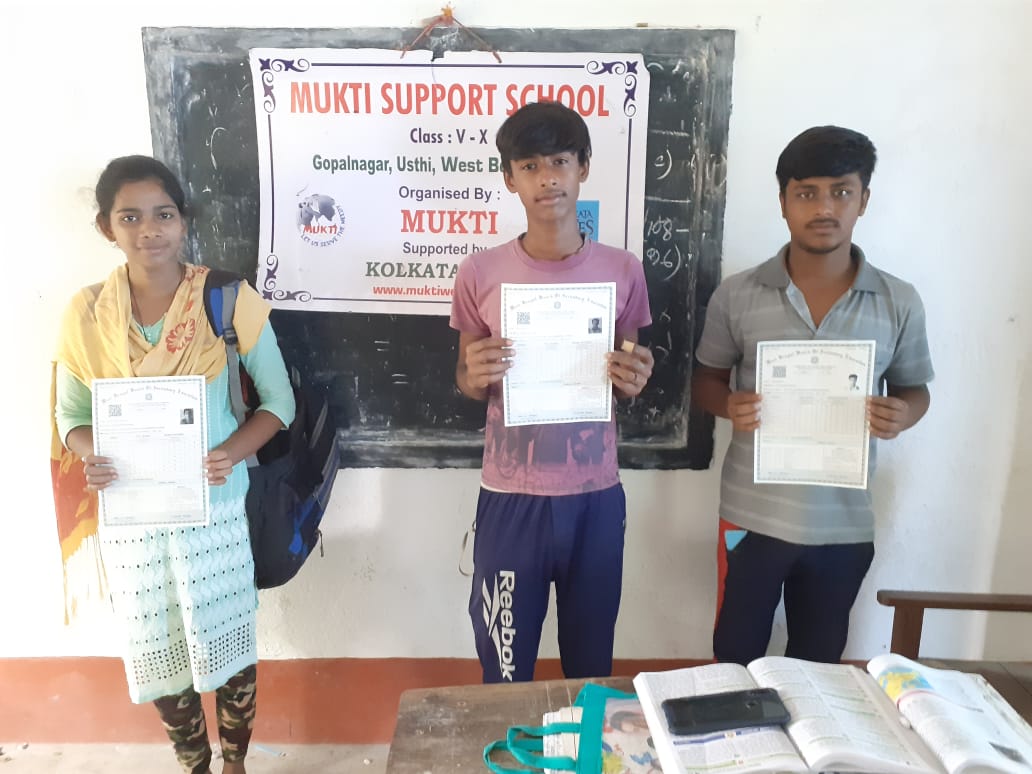 To truly grasp the magnitude of this accomplishment, one must consider the context in which it took place. Despite enduring two years of disruptive effects caused by the Covid pandemic, the students of MSS persevered and prepared themselves to face the examination. Reflecting on the pre-pandemic world of 2020, when the previous Madhyamik examination was held, it becomes evident how vastly different the circumstances were. The results serve as a testament to the sheer determination and resilience exhibited by the examinees, considering the limited time they had for physical classes, which amounted to less than 50 days, a sharp decline from the usual 200 days.
In light of these challenging circumstances, the achievements of the students become commendable, highlighting their unwavering commitment to their education and their ability to overcome obstacles. Mukti acknowledges their remarkable efforts and believes that their success in this examination sets the foundation for a promising future ahead.
| | | | | | |
| --- | --- | --- | --- | --- | --- |
| MSS NAME | Students Appeared | Star | 1st Division | 2nd Division | 3rd Division |
| Purbashridharpur | 14 | 0 | 0 | 3 | 11 |
| Damkal | 9 | 1 | 1 | 0 | 7 |
| Baradanagar | 11 | 0 | 0 | 1 | 10 |
| Jogendrapur | 21 | 0 | 0 | 1 | 20 |
| Uttarkankandighi | 8 | 0 | 0 | | 8 |
| Purbajata(I.I.M.C) | 16 | 0 | 0 | 7 | 9 |
| Sonakhali | 12 | 0 | 0 | 0 | 12 |
| Moukhali | 21 | 0 | 2 | 2 | 17 |
| Dabu | 7 | 0 | 0 | 1 | 6 |
| Herobhanga | 2 | 0 | 0 | 0 | 2 |
| Harbhangi | 3 | 0 | 0 | 0 | 3 |
| Madhukhali | 7 | 0 | 0 | 1 | 6 |
| Dakshin Kalikatala | 9 | 0 | 1 | 0 | 8 |
| Tilpi | 3 | 1 | 0 | 2 | 0 |
| Badhukhulla | 2 | 0 | 2 | 0 | 0 |
| Laxmijanardanpur | 6 | 1 | 0 | 1 | 4 |
| Dakshin Kashinagar | 9 | 0 | 0 | 1 | 8 |
| Rudranagar | 3 | | 1 | 2 | 0 |
| Sonatikari | 9 | 0 | 0 | 2 | 7 |
| Herambagapalpur | 4 | 0 | 0 | 2 | 2 |
| Banashyamnagar | 16 | 0 | 0 | 1 | 15 |
| Joykrishnapur | 11 | 0 | 1 | 0 | 10 |
| Santoshnagar | 12 | 0 | 3 | 3 | 6 |
| Gilarchat | 19 | 0 | 2 | 3 | 14 |
| Fatikpur | 6 | 0 | 0 | 1 | 5 |
| Krishnachandrapur-1 | 10 | | | 4 | 6 |
| Krishnachandrapur-2 | 9 | 0 | 0 | 2 | 7 |
| Khansaheb Abad | 5 | | 1 | 1 | 3 |
| Companichar | 10 | 0 | 0 | 1 | 9 |
| Radhakrishnapur | 8 | 0 | 1 | 2 | 5 |
| Deulbari (Kantamari) | 2 | 0 | 0 | 0 | 2 |
| Sutabecha | 2 | | | 1 | 1 |
| Talda | 11 | 1 | 1 | 3 | 6 |
| Menakapur | 11 | 2 | 1 | 5 | 3 |
| Gopal Nagar Bani Mandir | 4 | | | | 4 |
| Total 35 centers | 312 | 6 | 17 | 53 | 236 |