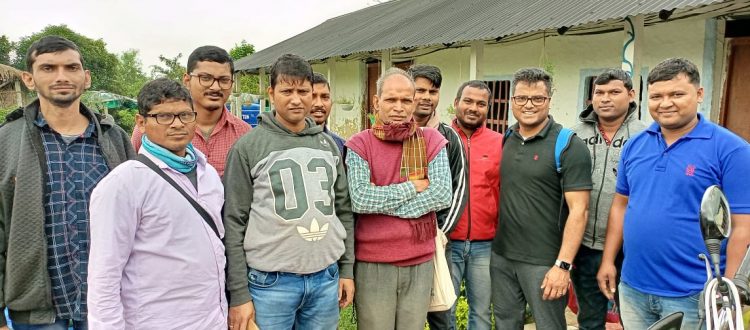 Mr. Bani Kumar Maity From "Saikat San Diego" Visit Mukti Gram
As a representative of "Saikat San Diego", Mr. Bani Kumar Maity with his 6 family members has come to visit the Mukti Gram on 6th and 7th December 2021. They have visited all the project sites of Mukti Gram for two days. He is originally from Egra of East Medinipore district but now has settled in California, USA.
Inspired by the activities of Mukti, he visited Mukti Gram. He wants to transform his own village into a model village like Mukti Gram. For this purpose, he visits Mukti Gram. He has talked to the project coordinators about every single detail of the projects of Mukti.
Visit on 6th December-
On 6th December they come at 11 am to MCDF (Mukti Community Development Fund) Raidighi office. Mr. Raghunath Bairagi, project coordinator of MCDF welcomes them and introduces them to the MCDF members presented at the time. They discuss in detail the group formation, loan structure, responsibilities of forum body members, making of a new group, training sessions etc. They visit the house of Mrs. Kabita Jana to see how the stone-decorated bag is made.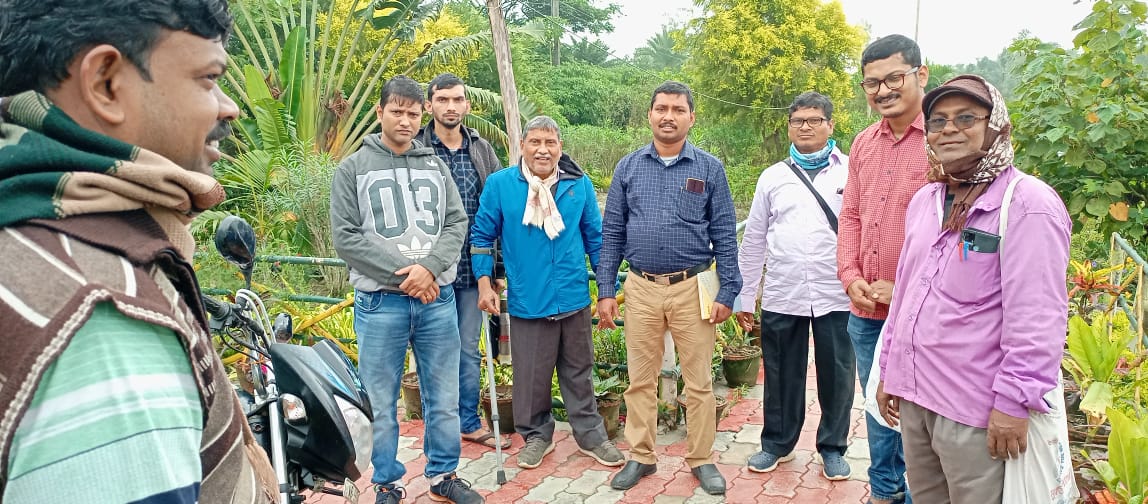 After meeting with the MCDF members, around 3 pm Mr. Maity and his team go to attend a meeting with the 27 SAM (Sustainable Agricultural Program) farmers at Paschim Jata Kansari Para. Mr. Sourabh Kayal, project coordinator of SAM introduces them to the farmers. Mr. Kayal and the farmers describe to them the methods of organic farming, Bio-manure preparation, biological pest control, soil management, crop rotation etc. At 6:00 pm they visit the renowned Jotar Deul and at 6:40 pm they attend a meeting with 6 Purba Sridharpur Forum Committee members. They stay at Raidighi Guest House for the night.
Visit on 7th December-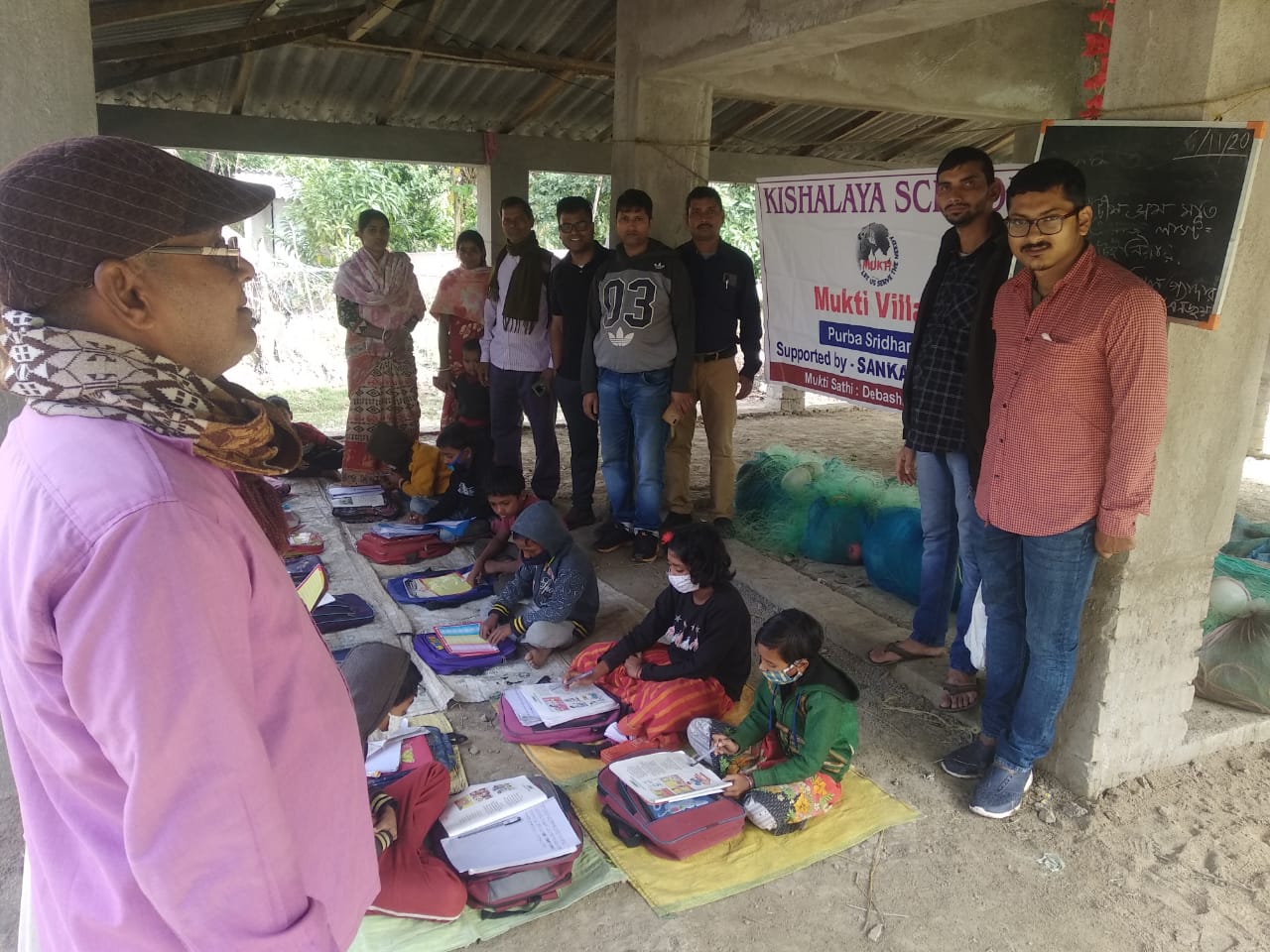 On 7th December at 8 am Mr. Maity along with his relatives visits Purba Sridharpur Mukti Support School (MSS) and Kishalaya School of Mrs. Debashree Baidya with Mr. Bimal Khan, the project coordinator of MSS. The visitors talk with the students and the teachers. They are overwhelmed by the way Mukti is supporting the financially backward students.
With Mr. Harisadhan Mondal, project coordinator of Mukti Gram, then they go to visit the various project sites in Mukti Gram- Cyclone tolerant house, roadside plantation work, Mukti Clinic, incubator machine etc. They appreciate the endeavor of Mukti.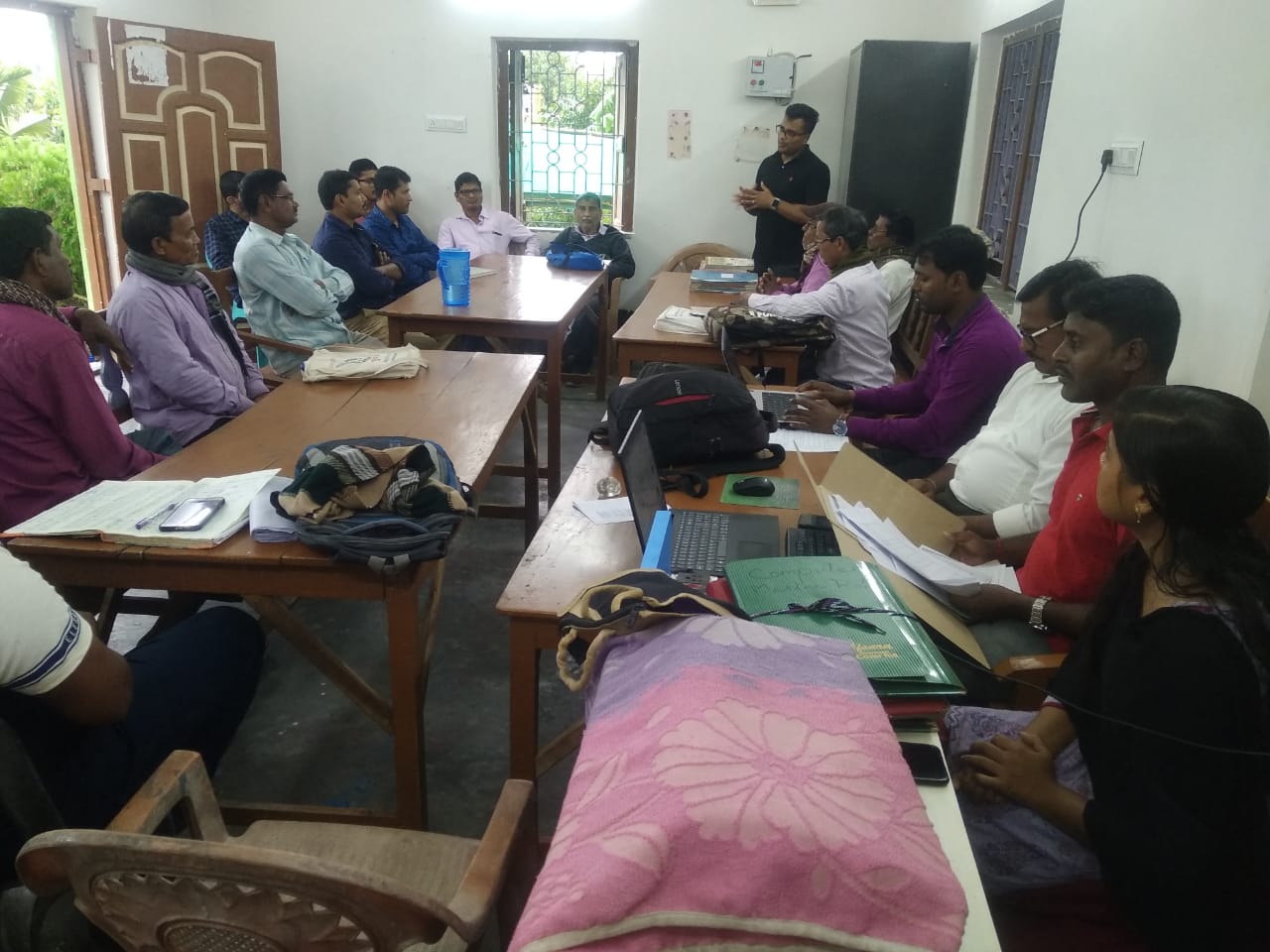 After returning from Mukti Gram, they have attended a meeting with Mukti Working Committee members and Mukti staff at Mukti Library. Overall 17-18 people participate in the meeting. While discussing various projects of Mukti they have asked how Mukti has successfully managed to overcome all the obstacles. They greatly appreciate and are inspired by the hard work of Mukti for the development of the marginalized people of society.
Before returning to Kolkata they share their experience with Mukti. First of all, they thank Mr. Sankar Haldar, the soul of Mukti, for arranging such a beautiful educational trip for them. They said they got a clear idea of ​​what needs to be done to transform an ordinary village into a model village and what initiatives can be taken to achieve it. Mukti has inspired them. They feel honored to be associated with such an organization. Lastly, they thank the Mukti staff for their sincere hospitality. Promising to return, they returned to Calcutta at 7:30 pm.
Gallery Link: https://muktiweb.org/gallery/tag/Visitofbanimaity