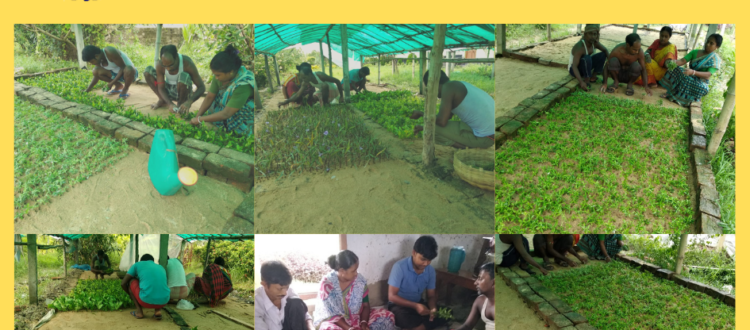 MODEL VILLAGE MAKING BY MUKTI – YEAR LONG TREEVOLUTION INITIATIVE THROUGH CUTTING AND GRAFTING OF FLOWER PLANTS
As part of the Go Green Initiative, Mukti has planned for 'MODEL VILLAGE MAKING' by beautification of villages near Purbasridharpur at Raidighi . Saplings of mostly flowering plants along with some fruit and ornamental plants procured through cutting and grafting will be used for this initiative. The cutting and grafting of flowering plants have been done by taking samples from three gardens of MUKTI at Raidighi.
In spite of the extreme warm weather, the villagers were excited & enthusiastic about the initiative and many villagers enrolled themselves willingly to make this initiative a great success. Thousands of flowering and ornamental plants were cut to make model villages and this work will go on for the whole year.
Some of the varieties that were planted are as follows:
Flower Trees that were grafted:
1) Karabi
2) Bottle Brush
3) Mili
4) Masunda
5) Sthal Padma
6) Jaba
7) China Rangan
8) Bel Mullika
Flower Trees that were cut:
1) Chinese Tagar
2) China Palm
3) Rangan
4) Thuja
5) Bougainvillea
6) Gondhoraj
The aim of the project is to cover entire villages with different kinds of flower plants. This initiative is done for transforming villages at Raidighi to eco village and beautify them which will in turn help us to fight global warming and climate change issues and we will have a cleaner greener environment to live and breathe.