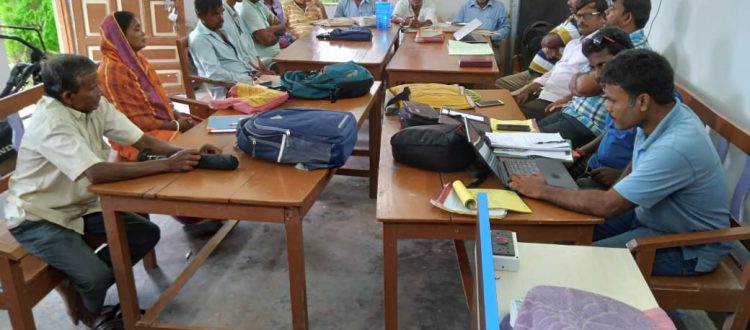 Meeting On Building More Cyclone Tolerant Houses
Mukti organize a meeting on 27th September 2021, Monday at Mukti Library Office with the villagers of Mukti Gram, Purba Srisdarpur who wanted to build their houses in imitation of the three model houses built by Mukti. 12 people were invited to the meeting on the basis of the application. The meeting is scheduled from 1 pm -3 pm.
The meeting is conducted by Mr. Harisadhan Mondal, the project coordinator of Mukti Gram and the Mukti working committee members Mr. Chitta Ranjan Halder, Mr. Bijoy Krishna Halder, Mr. Palan Chandra Sarkar and Mr. Subarna Kar.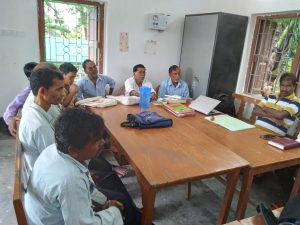 Mukti has already constructed 3 cyclone tolerant houses at Mukti Library Ground. The three are made with three different architectural designs as well as materials. The first one is made with straw and mud walls, bamboo with thatch ceiling and straw roofing; the second one is made of mud walls with dom ceiling and thatch and grass roofing, the third house is made with interlocking block walls with cell ceiling and tiles (tali) roofing. They are all two-storey houses. The floors are made of cement. The combination of these materials, form, and design of the house results in greater climatic comfort and is much cooler, cheaper and recyclable.
According to the kind of house the villagers want to build, Mukti will support them with Rs. 45,000 for those who will build shell and dome houses and Rs 55,000 for those who will build bamboo and straw houses. Mukti will provide them this money step by step while building the house. This money will be given to them as a full grant. To receive the support, they must follow some rules and regulations of Mukti.
The house has to be built following the approved procedure of Mukti.
In case of storms or floods, they will not leave their homes and if necessary must take shelter on the second floor.
The houses have to be built with experienced laborers appointed by Mukti otherwise there may be some flaws in the construction of the house.
The project will start either from the end of October 2021 or from the first of November. This project is applicable to the residents of Sundarban.
Mukti hopes that after seeing these 12 people, more villagers will express their desire to build such houses in the future.
Gallery Link: https://muktiweb.org/gallery/album/mukti-organised-a-meeting-with-the-villagers-interested-in-making-their-houses-like-the-model-houses-at-mukti-library-office