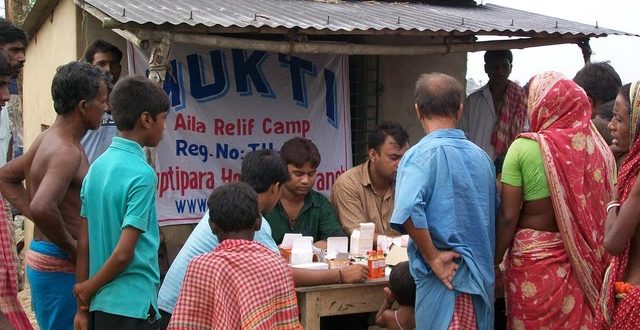 Medical Relief Camp by Mukti Hooghly Team
This is a brief report of the work done by Mukti, Hooghly (Guptipara) team in the Sunderbans area for the Aila affected people of the region.
As we all know that the Cyclone Aila not only devastated the area but also made thousands of people sick with fever and all water-borne diseases. Mukti tried to help the affected people with free medical checkup and provide free medicines through the Medical Relief Camp.
Four members of Mukti Hooghly including one doctor and one compounder ran a Medical Relief Camp on 20th and 21st June, 2009 and treated around 450-500 patients. Most of the patients were suffering from fever for different reasons and also mosquito bites.
The team started early in the morning from Guptipara, Hooghly on 20th June. They reached Dhamakali around 2 PM by a rented Maruti van and then took a boat to reach Kumirmari. It took around 2 hours to reach the Gram Panchayat office at Kumirmari.
The medical camp in Kumirmari was started on the same day at around 5 pm in the afternoon and continued till 11 pm in the night. The team treated around 270-280 patients in Kumirmari. Next day early in the morning around 5:30 to 6:30am they treated few more patients in serious condition.
On 21st June the team moved to Gosaba – Block 2 (Chowrasta) where they treated around 200 more patients. The camp operated from 7 am to 10 am. Blood samples were taken wherever necessary for further testing. The reports were forwarded to the Gram Panchayat office later.
On the way back to the Panchayat office, the team treated a few more patients.
After successfully providing medical assistance to about 500 people the team returned to Guptipara, Hooghly in the evening around 8:30 pm through the same Kumirmari – Dhamakali route.