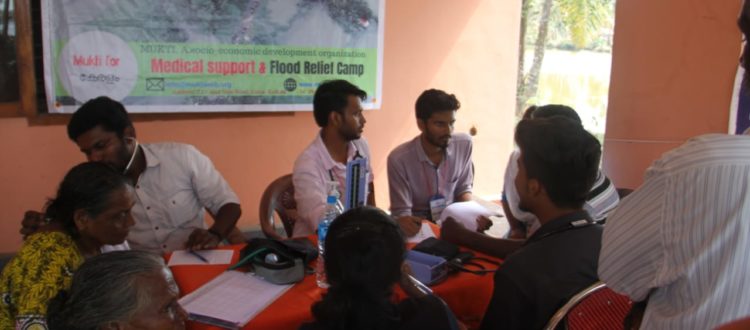 Medical Camps in Kerala in association with MSC
Kerala witnessed the worst flooding of the century this July-August. Out of a total toll of 324 deaths reported, 170 people have been washed away. More than 20,000 houses were damaged and about 30% of the state's population was affected. Times of India reported on 21st August, a total of 10,28,000 people are housed in 3,274 camps in the flood-hit districts. As water is receding, diseases and epidemics begin taking place rampantly. Thus, medical aid stands a major need for the Kerala people in the coming months.
MUKTI  is committed to provide health services, as its H.E.A.L.E.R. strategy begin with 'Health'.  MUKTI endeavours to connect with a well-meaning and experienced NGO such as MEDICAL SERVICE CENTRE (MSC) (http://medicalservicecentre.in/). MSC is operational since 1977 comprising medical doctors, nurses and other medical workers and also having significant presence in Kerala. MUKTI and MSC together working
The first MUKTI supported camp held on 1st September in Kallara district Kerala, 129 patients were examined and given medicines. Significant malnutrition was noted among the people. This camp delivered medical care, psychosocial counselling, health education regarding individual hygiene, safe drinking water, safe food handling, waste disposal, disinfection of contaminated wells etc. The medical camp consisted of 1 doctor, 3 medical students, 1 nurse, 1 pharmacist and 5 volunteers worked to bring medical and psycho-social relief to the flood victims. MUKTI could provide such service because of the benevolent donations of its kind well-wishers.
In last 15 days there about 7 medical camps organised at various places of Kerala to treat the Kerala Flood victims. The following Flood Relief Medical Camps have been held jointly by MUKTI and MEDICAL SERVICE CENTRE for the victims of flood in Kerala as per following details. General and specialist types of camps conducted at each spot as mentioned below:
General Medical Camp
Paediatric Camp
Leptospirosis Screening, Prophylaxis and Initiation of Treatment Camp
Camp for Respiratory Infections
Screening of the elderly for non-communicable diseases, newly diagnosed & aggravation of previously known chronic diseases
Screening for Neurological Problems
WASH (water, hygiene & sanitation) awareness, general health awareness
Relieving of psychological acute stress
Spots where these camps were organised and their dates are mentioned below:
01-09-2018 Kallara, Kottayam
02-09-2018 Idavanthara, Changanassery
05-09-2018 Komankari chira
08-09-2018 North Villiyanadu, Kavalam, Alappuza, Pin 689590
10-09-18 Kuttamangalam, Kainakary, Alappuza
10-09-18 Naduturitu, Kuppapuram, Alappuza, Pin 688011
11-09-18 Pandanad,Puliyoor, Alappuza.
At the present stage as people are settling back into their normal place and pace of stay, and regular services are gradually coming back to functioning, MUKTI and Medical Service Centre has reviewed the situation. Flood Relief Medical Camps are being concluded at this stage. We will regularly review the situation and step in for any crises that might crop up. We thank all our volunteers, donors, all citizens and various services in Kerala, Karnataka and throughout the country who stood with our mission.