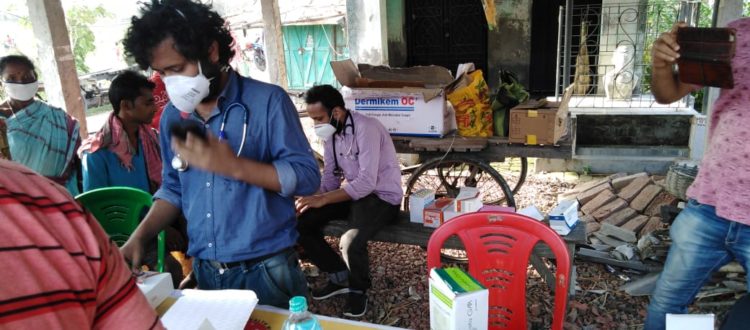 Medical Camp is conducted by Mukti at Herembogopalpur
Super cyclone Amphan has approached in the middle of the Covid crisis. The massive dent to the Kolkatan socio-economy, far from the Bay of Bengal and also from the landfall point near Sagar island in the Indian Sundarbans is indicative of the severity of the damages to the coastal regions and the Indian Sundarbans delta (ISD) that were subjected to the frontal aggression of the cyclone in its heightened intensity! With a maximum sustained wind speed of 165-175 kmph gusting to 185 kmph, and an estimated Storm Surge of 5 meters above Astronomical Tide, the catastrophic Amphan inundated coastal regions as also the Indian Sundarbans.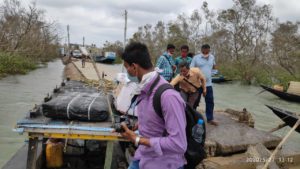 Communicable and infectious diseases are most likely to rise after a major cyclonic storm like AMPHAN. Bacillary dysentery and infectious diarrhoea claim the most amount of lives in the aftermath of a cyclone. Water-logging after a cyclone might also lead to outbreaks of vector-borne diseases like malaria, dengue, chikungunya, etc in the affected areas. The number of skin infection cases also goes up.
Treatment of non-communicable diseases takes a major hit after a cyclonic storm or natural disaster due to disruptions in public health services. This leads to exacerbated illness and even death due to ailments like cancer, hypertension, diabetes, cardiovascular disease, kidney disease, etc. A cyclonic storm can, therefore, increase the disease burden of any number of ailments affecting the people residing in the worst-hit areas in the long run.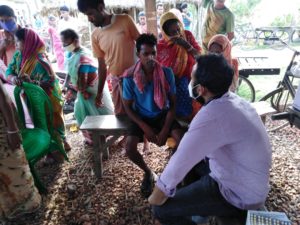 Assuming the above-mentioned effects, under the leadership of Mukti, a medical camp was organized at Herembogopalpur Gram Pachayat. The villagers of Keumuri, Domkal, Ramkrishna Bazar and Jotar Deul visited this medical camp.
The camp was well organized with the  5 doctors of a medical team of Vanguard, Kolkata involved in this social service. This included physiotherapist, general physician, child specialist, orthopedic, and gynecologist. Along with handling the pharmaceutical needs of the patients as free medicines were dispensed as per the prescriptions.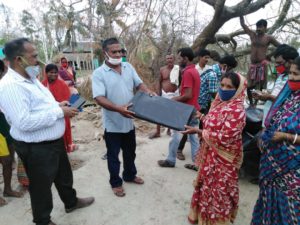 Tarpaulin and soap were also provided to the patients. Around 500 patients were provided with necessary medical advice, treatment, medicines. Doctors prescribed to use the disinfectant Dettol and ORS to each of the patients. Mukti ensured that the medical team carried on their work with efficiency by providing them full support in handling the OPD.