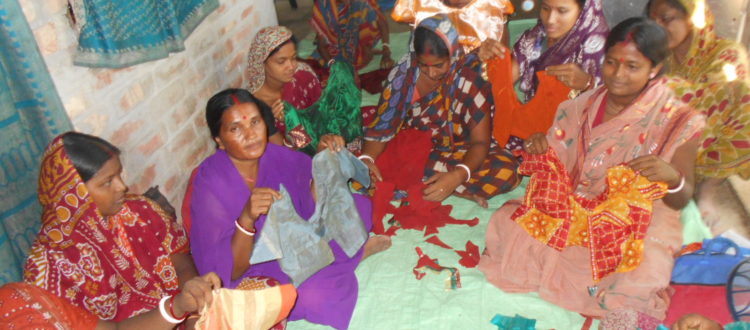 MCDF Tailoring Training at Kultali Branch
Since the inception of MUKTI Community Development Fund (MCDF) in 2011, its primary focus has been to ensure women's financial independence. The aim was to provide enough training, tools and techniques to the village women, so that they are able to learn various arts and handicrafts. This will in turn provide them the platform to earn money and contribute financially to their family income, thus ensuring well-being of the entire family.
To meet this objective, on 17th July 2017 in MUKTI Kultali Branch of Debipur, a Tailor Training programme was initiated at Santoshi Giri's residence. The training programme was initiated with 22 women as trainees. Ashima Das and Lakshmi Samanta were the two teachers in this centre. They gradually taught the trainees the art of dress tailoring. They taught about 1) Round-6-fold petticoat 2) Dress- Umbrella cut, house wear simple frock, simple sleeves and pop sleeve 3) Churidaar trouser and Pajama trouser and 4) Blouse. Such a variety of dress designs were well learnt by the trainees. This training was held from 17th July 2017 to 23rd August 2017.
It is our heartfelt wish and belief that once these trainees are able to invest in a tailoring machine, they will be able to earn money by utilizing their tailoring skill. This will thus help them in uplifting the financial condition of their family.
.