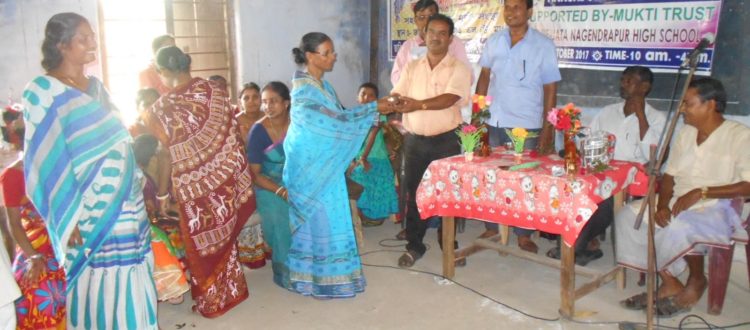 MCDF Purba Sridharpur Branch Annual General Meeting 2017
MUKTI Self-help group Purba Sridharpur branch
Venue: Jota Nagendrapur High School
MUKTI organized MCDF (MUKTI Community Development Fund) Annual General Meeting (AGM) 2017 on 15th October at Purba Sridharpur. Village Panchayet head Mr. Kamala Kanto Purkait and Panchayet member Mrs. Bhabani Biswas was honourable chief guests of the programme. The honourable guests inaugurated the program by lighting the lamps. This was followed by a wonderful welcome dance by local children.
The advisor member Mr. Raghunath Bairagi, respectable Mr. Nimai Prodhan and Susanto Purkait announced Purba Sridharpur branch MCDF group's income, group member count, savings and loan records. Sonatikari branch member Chandan Mallick and Raidighi branch member Anita Halder participated in the programme. Prizes were distributed to encourage MCDF friends who have worked well in this year.  Following this, the old committee was dissolved and lunch break was announced. After the lunch, a new committee was formed, based on voting by all members. Currently the new committee members are:
Arpita Purkait (Treasurer)
Sumita Biswas (Asst. Treasurer)
Chanda Pradhan (Secretary)
Karuna Halder (Asst. Secretary)
Manasi Halder (Team Leader)
Rinku Halder (Asst. Team Leader)
Bandana Maity (Member)
Aruna Halder (Member)
Kanika Samanta (Member)
Anjani Pramanik (Member)
Manasi Halder (Member)
Purba Sridharpur AGM was closed wishing everyone success and prosperity of the branch.